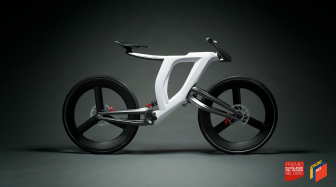 Winner of the prize "Eccellenze del Design nel Lazio" issued by ADI Italy, Furia by Francesco Manocchio is a concept bicycle design to experiment a technological fusion between carbon fiber composite and 3D printing material. Exploring the emerging techniques of rapid manufacturing, gave me the opportunity to be inspired by technology. Looking for lightness, strength and performance this design process aims to define our speculative view of bicycle in the next future. "The result is a 3D model 1:1 produced with a desktop 3D printer (replicator 2x) as a volume study. The use of technological solution such as hub-center steering comes from motorcycles' world, Tesi 3D by Bimota is an Italian example of this innovative technology applied on a sportive motorcycle. New production systems and materials offer to designers' new insightful perspectives, that we have to explore in order to innovate, Furia is one of those paths, designed to provoke and inspire." If you're interested in 3D printing bikes you should also check 3D Printed Bicycle '3BEE' and Fully Functioning 3D Printed Stainless Steel Bike.
Dutch designer and technologist Rein van der Mast wanted to change the way we look at luxury writing instruments, and came up with this one-of-a-kind fountain pen. Called Spica Virginis, after the brightest star in the constellation Virgo, this luxurious pen is a world first, crafted with the help of 3D printing technology, with intricate details made from 18k solid gold. This beautiful thing was meant to resemble an ear of grain and it will be available in either 18k yellow gold as well as white gold, packing 3D printed nibs too. If you fancy titanium more than gold, since a lot lighter, with less than 1/3 of the density of gold, the Spica Virginis can be also ordered in a titanium plated version with a thick layer of 24K gold and a tiny amount of cobalt to stand the test of time even better. In the meantime, I'm sure you all understand that exclusivity and precious metals come at a price. Which is why the 18l yellow or white gold versions of the pen are priced at a cool €14,320, while a titanium version plated with a wear resistant layer of 24K gold will set you back as much as €4,960.
3D printing is not only an insanely effective technology allowing to create footwear that isn't just unique or difficult to counterfeit, it also means designers and scientists have zero constraints. Designing for pure function and aesthetics, shoe production will not be hindered by molding/manufacturing capabilities, and the Adidas Grit seems like a prime example. Designed with a sole that is a shock-absorber in itself, the Grit has a design so mesmeric and unique, you can't really tell where the midsole or the outsole begins on the shoe. Designed with a sole that wraps itself around the upper half of the shoe like crazy cobwebs, the Grit was made to make you feel like you're running on air. The latticed sole collapses when your foot lands on the ground, and material physics pushes it to expand when your foot is lifting off the ground too, allowing it to absorb impact, and release energy. Fantastic, isn't it?