Swedish jewellery house Shawish continues the tradition of launching a luxury and unique things. After creating World's First All-diamond 150-carat Ring that worth $70 million Shawish has presented World's Most Expensive USB Key. This luxury gem-studded memory stick is a part of their already well-known collection of mushroom pendants, Magic Mushroom. Shawish high-tech Magic Mushroom USB-key consists of two parts: the stem, made of 18K gold, and the head of the fungus, consisting of hundreds of rubies, sapphires and diamonds. Magic Mushroom USB key also provides 32 GB of memory. Magic Mushroom USB key crafted with white gold, emeralds and white diamonds will cost $36,900. USB key in yellow gold, white diamonds and rubies will cost $24,400. USB key in pink gold studded with pink sapphires and white diamonds will cost $16,500.
Japanese design studio Fantastic Design Works created fairytale interior of Alice in Wonderland restaurant inspired by the Lewis Carroll classic. Restaurant features several different "rooms" and each of them is an imaginative combination of psychedelic decorations, dramatic designs and waitresses dressed in Alice costumes. "We wanted to give guests excitement and surprise, like an unreal world with various wonderlands," explains designer Eiichi Maruyama. Located in Tokyo's Ginza shopping district it is the fourth Alice in Wonderland-themed restaurant owned by its restaurant group.
You can imagine yourself agent 007 or Alice in wonderland. Or even Marie Antoinette. You can everything in Seven Hotel located in Paris, France. This really luxury hotel contains 28 suits that are decorated in seven different ways – James Bond, Marie Antoinette, Alice etc. These suits were created by four talanted designers: Vincent Bastie, Virginie Cauet, Sylvia Corrette and Paul-Bertrand Mathieu. So if you want to make your travel to Paris was unforgetable – book a room in this amazing hotel.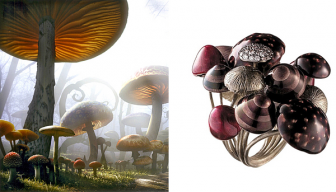 The Brazilian brand H.Stern in partnership with Disney has released an extraordinary luxury collection of unusual ring inspired by "Alice in Wonderland" of Tim Burton. Strange roses, colorful mushrooms, bird from beautiful garden, the Cheshire Cat, Jabberwocky and other wonders of the world through the mirror served as the inspiration for designers brand. The collection consists of five rings, they are all made of gold, some items are covered with colored enamel and adorned with diamonds. All products are made under the order, and, like in the movie everything is reduced or increased to gigantic proportions, and jewelry can be ordered two sizes – "human dimension" and "extraordinary dimension" that are enormous sculptures.