Israeli start-up Sirin Labs unveiled a new Android device that boasts "military grade" security and a price tag of $14,000. For specifications, the Solarin features a 5.5-inch IPS LED display with a 2K (1440×2560 pixels) , Qualcomm Snapdragon 810 processor, it runs on 4GB of RAM, 23.8-megapixel, Sony-made camera and a quad-LED flash and it has 128GB of non-expandable internal storage. A chip-to-chip 256-bit AES encryption technology is also integrated into the device, backed up by security firms Zimperium and Koolspan.The phone is available online and can be grabbed from its first store in Mayfair, London from June 1 and Harrods, Knightsbridge from June 30.
The HUAWEI Watch is a handsome piece of wearable technology with Android OS and compatibility with apps such as Google Now and UP by Jawbone. The smartwatch connects with one's phone via Bluetooth but works independently enough that the wearer won't need to be tied to the phone all day to take advantage of the watch's features, which include a built-in mic, a heart rate meter, and visual and vibration notifications for communications and events. Fully customizable, the watch offers more than 40 possible faces with a blend of classic and innovative chronograph features indicating speed, weather conditions, day of the week, moon phase, calories burned, and more. Each of these options is cleanly displayed on the AMOLED screen, which boasts a 10,000: 1 high-contrast ratio and 286ppi for ultra-high resolution. Classically designed, the HUAWEI Watch is one of the first smartwatches with a sapphire crystal, the luxury wristwatch standard. Additionally, the device is styled with a round face; a stainless steel case in one's choice of a plain, gold, or black finish; and a steel or leather buckle strap. The release date and price have not yet been announced.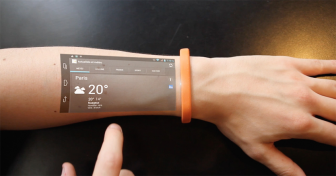 Although the first prototype isn't yet ready, as the developers are still raising funds, the Cicret bracelet promises great things. Wearable technology is becoming big, and Cicret aims to go even further than existing technologies. As you can see in the video below, the device is a bracelet which uses proximity sensors and projects an Android interface onto your skin, allowing you to use your phone in situations where holding the device would be inconvenient or impossible.