The JellyTank by Florida-based designers Blake and Brock Gratton is a desktop jellyfish aquarium customized for homes, offices or commercial spaces. The goal is to create a tank focused on the natural flow that this marine species would typically experience in the oceans whilst offering a mesmerizing, slick and fully functional product. So for all the jellyfish lovers out there, Blake and Brock Gratton have made it surprisingly easier to own a bunch of them as pets in their state-of-the-art tank. Based on extensive research, the JellyTank is user-friendly and easy to maintain in different contexts. To keep the animal comfortable in this habitat, the design includes a laminar water flow pattern which mimics the natural currents and conditions of open water. During nighttime, colored LED lights set the mood by emphasizing the curvy outlines of the design as well as the translucent bodies of the invertebrates floating across the tank.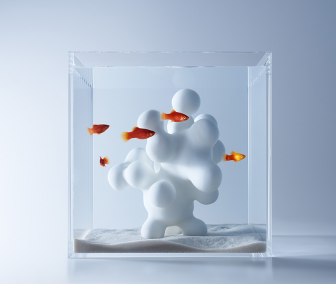 Designer and founder of Misawa Design Institute, Haruka Misawa, has designed a series of minimal aquariums titled "Waterscapes" that include 3D printed objects inspired by undersea plant life. These works mimic coral and other aquatic flora that small fish use as hiding places, yet are all manufactured digitally. The objects are ones that would normal topple or crumble because of their own weight, yet because of their underwater location are able to exist as buoyant additions to the aesthetically pleasing fish homes. Within the series Misawa has also designed bubbles of air within the aquariums that allow plants to thrive at the center of her creations. These meta environments appear like miniature fish bowls within larger aquariums, with plants floating at the top of the inner enclosures. These works were displayed recently in Taiwan in an exhibition titled "Waterscape".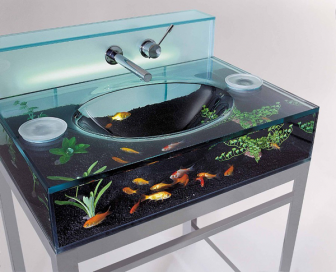 The site of exclusive products for the home Opulent Items is offering shell-tank for the bathroom called Moody Aquarium Sink. Its internal decoration can vary by a removable top. Еhere are two circular entries on each side еo feed the fish. It's also equipped with a sink water filtration system, water circulation and oxygenation, and lighting. Price is $4,500.
In the beautiful Georgian port city Batumi will be built brilliant "Batumi Aquarium". This fairytale building will be entirely devoted to the underwater world. Aquarium is designed in the form of pebbles, which cover the beaches in Batumi. There will be four pebble-shaped structures, each housing an exhibition space representing an unique marine biotype – the Aegean and Mediterranean seas, the Indian ocean, the Black and Red seas and an interactive exhibition. All pebbles will be connected by a central space, which will contain cafe, auditorium and retail areas. This stunning concept was developed by Danish architect studio Henning Larsen Architects. And studio have won the first prize of Architects University Kolding.