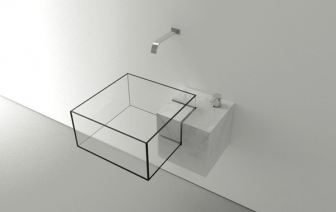 This minimalist bathroom sink was created by Bulgarian designer Victor Vasilev, who studied architecture in Copenhagen, Denmark, and currently lives in Milan, Italy. His portfolio reveals a modern-minimalist approach, with each design having its own twist. An elegant carrara marble stone, employed to enhance the product's visual appeal. An interesting junction of geometric shapes occurs, which seems to be the basis of the design concept. Kub Basin comes with faucets and fittings, their subtle presence being a perfect match for the glass sink. The project is also available in a highly intriguing version for two. The carrara stone can be cleverly used as storage space, blending its aesthetics with a high dose of function.
If you're looking for relax the first things that came in mind is bathtub or hammock. But what would be if they were combined into one sole piece. Perhaps, absolutely relaxation! And designer Splinter Works combined the peaceful experience of kicking-back in a hammock with the comfort of soaking in a hot bath. As a result we have a Vessel. This perfect bathtub is suspended from the walls and does not touch the floor. It is fixed with stainless steel brackets that can be covered over, or left revealed. The bath is filled using a floor standing tap and the waste water released through the base into a floor drain. A down-pipe drain can also be installed if a wet room setting is not possible.
In the time of multifunctional furniture and other stuff the following example will surely come in handy. Designed by Seung Hyun Lee, il Woong Jwa, Bom Yi Lee & Jiwon Moon the Multifunctional Bathtub has an exclusive tilt function that allows you to save water when you take a soak. Depending upon how you tilt and use the tub, you could end up saving 80% of water for foot bath, 60% of water for half-body and 40% for full-body bath. Extremely useful idea, don't you think?
Dutch designer Thomas Linssen of Studio Thol created not only modern but also extremely comfortable bathtube. Made from a composite of polyester and marble this tube is concluded into wooden frame from American White Oak. Linssen explains: "For this project I took the frame of a chair, designed with comfort and posture in mind, and let it evolve into a bathtub. The base of the bath is defined by its oak-wood 'skeleton', the composite tub slightly puffs up between the wooden beams, pushed into this shape naturally through water pressure." Have fun!