If you are in the job search process and want to stand out from the competition then you should definitely launch your own resume or CV website. It'll give you prominence and a mark of individuality among the other job seekers. On pages of your resume website you can show your experience, educational qualifications and other skills thus to prove yourself as a professional who knows the proper use of modern technologies. In the following collection we've gathered some really interesting resume/CV website template that can make your CV attractive and expressive. Collection contains both one pager and multi pager resume website template. All resume templates are easy to customize and great for everyone to showcase their online bio, education, work experience, skills and achievements. Also we recommend to check our last collection of Top 10 Online Store Website Builders and about 15 best free website builders!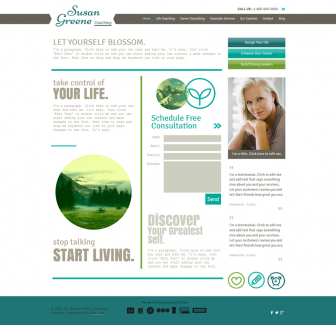 Are you a life coach or business consultant? Then you should definitely launch a website to promote your knowledge and services. And don't be misguided that consulting and coaching websites are boring and bland. Now you have an opportunity to select presentable and attractive website template or WordPress theme for your personal project. All website templates listed in this showcase are the best consulting and coaching website templates from around the web. They look highly professional and the most important – they're absolutely free. So don't waste your time and check this collection! Also there is an opportunity to create your coaching website from scratch. All you need is to use one of free website builders listed on our post 15 Best Free Website Builders.
Today we want to represent to your attention another great collection of free website templates. This time we've gathered the best restaurant HTML5 templates, the best restaurant WordPress themes and the best ready-to-use restaurants HTML5 websites. So if you're looking for interesting and creative website templates to launch a website for your restaurant then this collection will surely come in handy. So, if you don't want to use free website builders here you'll find restaurant website templates created by different designers and in different styles, for restaurants of classic cuisine and for Japanese or Mexican restaurants. All you need to do is to review the whole collection, choose a template that will meet your expectations, download it and launch your website! Good luck!
We represent to your attention another collection of free website templates and themes. This time it's dedicated to café. Usually café templates are combined with restaurant templates and it's harder to find proper template. It's because website for café doesn't need so much functionality as website for restaurant, but it needs simpler but at the same time more creative design. And we've tried to take into consideration all these moment while creating this collection. It includes free café website templates, free café PSD templates and even ready-to-use café websites. So feel free to check 15 best website templates and themes for cafés! Also there is another way to get a free website for a café or a restaurant – check 15 Best Free Website Builders for more information.