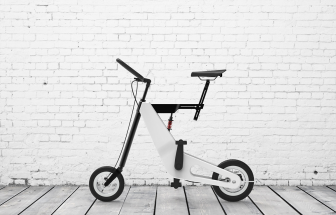 Today we want to show interesting concept of urban bike. Created by industrial designer from Canada Zheren Zheng the Urban Bicycle aims to provide city dwellers with a compact, easy-to-use and efficient way of zipping around town. Composed of aluminum and fit with a belt drive, its featherlight frame is ideal for carrying between commutes. Designed with working professionals in mind, the entire belt drive system is neatly contained within the body, there is no risk of getting a suit or dress dirty while carrying. Its unique loop handlebar also doubles as a locking system, eliminating the need for peripheral locks that are cumbersome to carry. Users must simply hit the release and wrap the loop around a post or bike rack and snap back in to place. If you'd rather store it in your office or home, its folded form only takes up a small footprint no larger than a standing person! And don't forget to check another great compact urban bike X1 EXPLORER.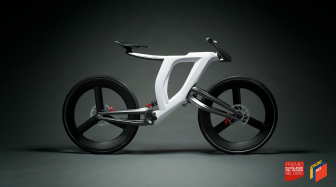 Winner of the prize "Eccellenze del Design nel Lazio" issued by ADI Italy, Furia by Francesco Manocchio is a concept bicycle design to experiment a technological fusion between carbon fiber composite and 3D printing material. Exploring the emerging techniques of rapid manufacturing, gave me the opportunity to be inspired by technology. Looking for lightness, strength and performance this design process aims to define our speculative view of bicycle in the next future. "The result is a 3D model 1:1 produced with a desktop 3D printer (replicator 2x) as a volume study. The use of technological solution such as hub-center steering comes from motorcycles' world, Tesi 3D by Bimota is an Italian example of this innovative technology applied on a sportive motorcycle. New production systems and materials offer to designers' new insightful perspectives, that we have to explore in order to innovate, Furia is one of those paths, designed to provoke and inspire." If you're interested in 3D printing bikes you should also check 3D Printed Bicycle '3BEE' and Fully Functioning 3D Printed Stainless Steel Bike.
Bicycles come in all shapes and sizes but, generally speaking, you can expect the materials used in their construction to remain more or less the same but not so with Materia Bikes which boast some of the most striking and coolest looking wooden bikes you're likely to come across. Dripping in aesthetic awesomeness and offering an unparalleled performance, these bikes are a great choice for those looking for a stand out contraption in 2018. Timelessly stylish and high performing, the bikes from Materia are instantly recognizable courtesy of their impressive wooden frames and sleek, elegant designs. These cracking contraptions combine sophisticated design elements with a desire to deliver exceptional comfort whilst riding and they achieve both these objectives with some considerable aplomb.
Javier Jubete of the Spanish-based Vintage Luxury Bicycles brand specializes in bespoke, chrome-engraved bicycles featuring traditional Japanese art. The new chrome and freshly painted white pearl body reinforces the engraving and drawings on the various parts of the bicycle and wheels. Though the newly reworked gold-plated Campagnolo classics retain their traditional edge, vintage luxury bicycles implements complex Japanese motifs on each bicycle. Vintage Luxury Bicycles' latest collection celebrates the union of both the Italian and Japanese cultures. The newly revisited Campagnolo bicycles feature slim 700c and 650c wheels and the tubular system by famed Italian brand, Vittoria.