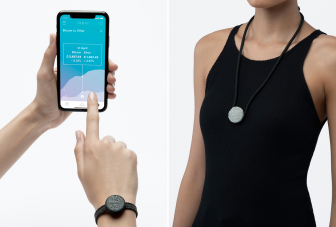 Benjamin Hubert of Layer, has come up with TROVE – prototype for an "unhackable wallet" – is a physical storage system for your virtual money to safely sit. the Trove Coin wearable is one of three physical parts of an unhackable, unloseable cryptocurrency storage system concept created in collaboration with fintech start-up Trove. Currently a prototype, Trove is made up of Coin, Keep, Safe, and the Trove app. Used together, the Trove system will offer "a safer, more reliable way to store and use cryptocurrencies every day" according to Layer. The Trove Coin is a 3mm x 20mm black aerated aluminium or silver anodised aluminium wrist device that, like a regular wallet, is a way to store currency for daily use spending and trading. The Coin stores its cryptocurrency offline on the hardware, rather than online, making it is less susceptible to hackers.
With the price it's never been more important to make sure that you keep your bitcoin mining horde safe, an off-line cold bitcoin wallet is one way to do this. Launched just a few weeks ago the HooFoo bitcoin wallet has now past its required pledge goal and will make the jump into production allowing those lucky backers a place to store their bitcoin mining rewards in safety. "The recent numerous bitcoin exchange hacks compelled us to invent a safer cool storage bitcoin wallet for Cryptocurrency owners. Unlike other cool storage wallets, HooFoo is the most game-changing device ever invented for the Cryptocurrency world. It is a hack-proof hardware wallet that pairs up with your smartphone via Bluetooth 4.0 to securely store your currency and let your transactions happen in a safe environment. The dime secures the private key and signs the transaction offline, completely isolating the signing step from the Bitcoin network, making it virtually hackproof. HooFoo keeps your private key in the hardware wallet and never exposes it." The HooFoo bitcoin hardware wallet is now available to back via Indiegogo with early bird pledges starting from $169 and delivery expected to take place during June 2018. If you need trusted bitcoin hardware wallets – check our post about the best bitcoin hardware wallets.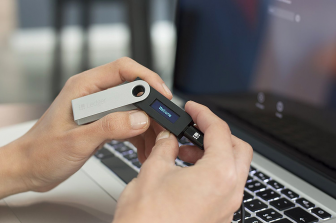 Cryptocurrencies are no more the ultra-tech best kept secrets of the cyber world. They're mainstream and the number of people buying cryptocurrencies is increasing every day, thanks to the record valuation received by Bitcoins. Now, one important question for everyone working with digital currencies is – how do I keep my cryptocurrency tokens safe and secure? Well, in the wake of events such as cyber attacks on cryptocurrency exchanges, the question is valid.