Seoul based designer Chanju Park has created a minimalist clock named PlayTime. In general this is a clock which at the same time is a speaker but vice versa – a hybrid analog clock/Bluetooth audio player. With its oversized alarm-clock aesthetic and polished finishes, it's almost unrecognizable as a speaker and that's precisely its appeal. Even its needle is a disguised digital music playback bar, indicating the duration of the music. Just like you can see the progress bar in your music app, you can also see it on the clock face!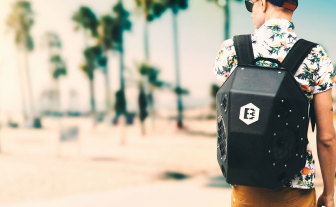 The BeatBringer Backpack aims to bring back the spirit of the ghetto blasters through a modern and convenient design created for the Bluetooth generation. The futuristic backpack features a stylish geometric shape and honeycomb-shaped pattern and is made of tough, impact-resistant ABS polymer. Lightweight and comfortable to wear around town, BeatBringer allows the user to bring the party anywhere, from social gatherings to skate parks. The high-end audio system has an output of 110 decibels and works with Bluetooth, which makes the BeatBringer a powerful piece of wireless audio equipment you can wear on your back. The backpack weighs 12.8 pounds and has two 6" neodymium woofers, two 25mm soft dome neodymium tweeters, a four-channel amplifier, and a lithium battery. You can pre-order the backpack at a special price by supporting the Kickstarter campaignuntil August 14; the first backpacks will be delivered to the backers by October.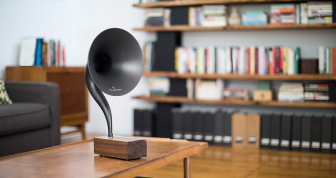 Gramovox have presented a new version of their beautiful retro Bluetooth speaker. The updated Gramovox Gramophone 2.0 now features a dual-driver design, letting users experience warm, organic mid-range tones through the expertly-crafted steel horn and nice bass flowing through the 2.5″ low frequency driver hidden in the solid wood base. It connects to your devices via Bluetooth 4.0 or its auxiliary input, has a range of over 33 feet and battery life of 12 hours.
Let us represent you modern and stylish AeroTwist speakers! They come in all shapes and sizes. Well, basically one shape, but with its flexible design, you can twist it to suit your fancy. These speakers come from Jarre Technologies, known for their kitschy take on audio systems and docks. The Aero Twist is their latest, award winning twist-able Bluetooth speakers. Available in sexy Matte, svelte Gloss, and slick Chrome variants, the speakers come with NFC, and the ability to make you the coolest in your pack!