Razor, creators of the popular drift racing Crazy Cart, have developed the Razor Ripsurf, a board that brings surfing to the city. The board's styling and function were guided by the feel of surfing and features of a real surfboard, the end product mimics the feel of surfing on a concrete environment. Ripsurf uses Razor's RipStik Air technology which allows riders to speed up and slow down without ever taking their foot off the board, and, by moving your body in the same way as surfers ride waves, the RipSurf will keep going until you decide to stop. So, if you're interested you can but this board here.
Take the game with you! Designed in Germany by backpacker specialists Sondergut, these hand-sewn genuine leather game boards are perfect for traveling – leather backgammon board rolls up to the size of a pocket umbrella. And it could be a great Christmas present! Whether relaxing on the beach, are in an airplane or at the hotel lounge, you can play backgammon almost anywhere – and with style. You can choose from the Roll-Up Chess Game, or the Roll-Up Backgammon Game, both sets include all the play stones you need for action, and when finished, simply store the pieces neatly into the zippered pocket for safe and reliable storage. Available in Mocha or Cream colored suede boards. Sounds interesting? You can buy this game here.
Designed by Mustard, a design studio that brings a fun perspective to everyday mundane products, the "Splash Chopping Board" is cleverly designed to make it stable against the edge of the kitchen counter using the drip as an edge. If necessary the "drips" can easily be removed, making a completely flat worktop saver. Available now for pre-order at online store mzube.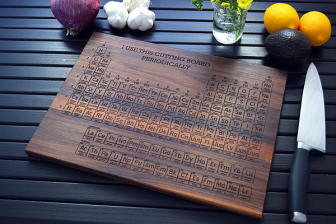 If you want to make an unique present for your friend or buy yourself a pleasant kitchenware gift then take a look at these custom wooden cutting boards. Some of them are engraved with the periodic table of elements, some – custom map or with some symbols by your choice. The cutting boards are available in maple, white oak, beech and walnut. To make your board even more special you can ask to engrave your name and initials inside the spot of the 118th element Ununoctium. You can buy any of these cutting boards from Etsy store Elysium Woodworks for $45 each.