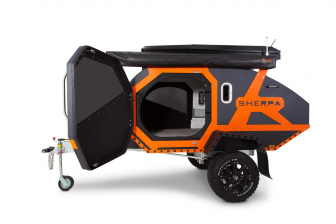 BRS Offroad's Sherpa off road teardrop trailer is unlike anything else on the market. The Australian company has plenty of harsh terrain to test their designs, and one look at the Sherpa shows that it's ready for anything. Despite the small size, the Sherpa packs a two-burner alcohol range, two 30-liter refrigerated drawers, and battery-powered 12-volt outlets. The interior lets you fall asleep with a view of the sky overhead, and a drop-down shower spout and 200-liter water bladder keep you fresh for your stay in the great outdoors. When you're towing the Sherpa, its full suspension, high ground clearance, and robust construction ensure that everything arrives at your destination no matter how rough the going is getting there. And if you're interested in off road travel trailers e sure to check Mink Camper and Tvan Camper Trailer.
One of the world's most stunning national parks is in Chile. Chile's Torres del Paine National Park is home to world famous Paine mountain range, as well as a number of gorgeous valleys, rivers, and glaciers. And EcoCamp Patagonia is right in the middle of it all. Not quite a hotel but not exactly camping either, this glamping location is made up of a series of geodesic domes. The camp offers luxury suite dome lofts, standard lofts, a central community dome, as well as a relaxing Yoga Dome for group and individual classes. EcoCamp, as the name would suggest, is run by renewable energy, and practices radically sustainable methods like its sourcing of local foods for all meals. But more than just featuring an environmentally conscious approach and unique accommodations, this hotel offers up easy access to hiking, bicycling, and climbing in one of the most beautiful corners of the world. All things said, a stay here goes for about $2,500 per week. And don't forget to check stunning photos of Patagonia.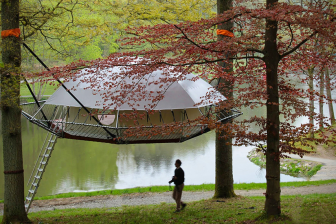 With Dom'Up, a suspension style cabin that promises, you can take your outdoor adventures to new heights. Dutch arboriculturist Bruno de Grunne and architect Nicolas d'Ursel from Trees and People, are behind this innovative invention that features a UV-resistant roof made from durable thermo-welded tarpaulin. The lightweight 172 sq. ft. platform gets hung between two trees, as the galvanized steel and natural (and removable) wooden flooring round out the support. The makers say Dom'Up ($28,215) does take a couple of days to fully set up, but that it can then stay elevated in the trees for years. Interested? You can buyit here.