Unique cartoons by Iranian caricaturist Majid Khosroanjom have taken over the web! The cool cartoon pictures are made in a very unusual way – with a real object attached, they become vivid satirical and humorous photocompositions. The unique style of the artist involves attaching a real object to his drawings. It could be a coin, a little padlock, a chess piece, some fresh fruit, a flower, some clothes or practically anything in fact. His cartoons take on more dimensions, becoming vivid satirical and humorous photocompositions. If you like these cartoons pictures – don't forget to check 3D Pencils Drawings by Ben Heine.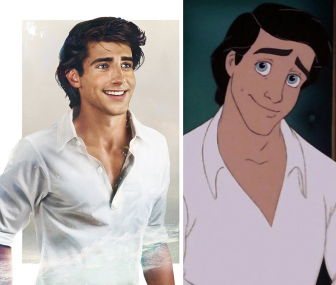 If you've ever wondered what Disney's princes and princesses might have looked like in real life, Jirka Väätäinen, a Finnish artist and designer in Melbourne, has answered that question definitively with his series of real-life Disney characters illustrations. Digital artist Jirka Väätäinen has already attracted an enormous fan base with his 'Real Life Disney Characters' series, which revealed how Elsa and Anna from Frozen, The Little Mermaid, Sleeping Beauty, and Snow White would look in human form. Cinderella's Prince Charming, along with Princes Phillip, Eric and Adam from Sleeping Beauty, The Little Mermaid and Beauty and the Beast respectively are brought to life through digital painting. John Smith from Pocahontas, Aladdin, Hercules and Tarzan also feature in the series. Just like their cartoon versions, there are brooding eyes, chiseled jawlines, effortlessly coiffed hair, and muscular physiques aplenty amongst the princely portraits. Take a look!
Vienna-based street artist Nychos seems to have a fascination with anatomical diagrams, turning some of his murals into creepy dissections. His signature style features the anatomy of his characters, layer by layer, through colorful, explosive compositions. And his focus on some of our favorite childhood characters like The Little Mermaid or Teenage Mutant Ninja Turtle. Though he's based in Vienna, this artist has hit up other street art locations, including the streets of Brooklyn, NY.