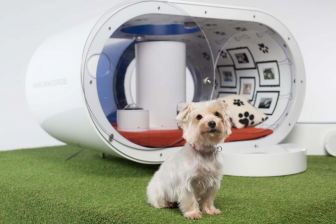 On display at birmingham's 2015 Crufts, the world's largest dog show, the Samsung "dream doghouse" is a one-off design, modeled by architects to create the most suitable and luxurious exterior and interior as possible. Costing a grand $30,600 USD and taking six weeks to produce, the elegant kennel is aimed for pampered pooches who can enjoy two indoor living areas – one for rest and relaxation, and the other for dining and entertainment. The inside features a "push-to-woof" call bell, themed wallpaper, framed portraits of family and friends, a contemporary skylight and even a operational snack dispenser. On the astroturfed outside area, the pet can use a specifically designed treadmill and a hot-tub spa. "The Samsung dream doghouse looks sleek and modern, featuring the kind of tech the discerning dog of the future will need," Andy Griffiths, president of Samsung Electronics U.K. and Ireland, said in a news release on Wednesday. "from dogs who have social media profiles, to owners who use video calling to check on their pet while away, technology is fast becoming an integral part of everyday life."
These stunning cat houses were created for Architects for Animals' "Giving Shelter" fundraiser in Los Angeles. The designs drew a crowd of not-so-crazy cat people, and all proceeds went to FixNation, a Californian spay-neuter nonprofit. Kind and contemporary, the designs please feline friends and design-conscious guardians alike with their geometry, texture, and clean look.
ARNI Foundation is a nonprofit organization that rescues abused animals as well as animals at local kill shelters. With the help of Studio Mango, they created a new pet brand called ARNI Says, where all proceeds go directly to the ARNI Foundation. They debuted their first product, the Kitty Kasa collection, which is an adorable set of stackable modules that act as little homes for cats. The Kitty Kasa is like full service condo housing, but for cats. There's the Kitty Kasa Gym module that comes with a scratching post and holes to keep your cat happy and exercised. After they're tired of the gym, they can prowl to the Kitty Kasa Recreation center, complete with a mouse for kitty entertaining. Finally, they can go to sleep and rest in the Kitty Kasa Bedroom, that's sturdily built and can be used indoors or outdoors.