These sweet and cheerful photos were taken by children's photographer from Moscow Elena Karneeva. Each shot, highly professional executed by the way, give you really pleasant emotions since photographer adores her work. "When photographing children is important to dive into the world of childhood, to anticipate and feel the movement of the child, understand his motivation. To be a children's photographer – so learn to look at the world through the eyes of a child. And most importantly – do not spare the time, after a successful picture is often necessary to wait for hours". With these snowy photos we want to wish you a Happy New Year! See you next year!
Art works of American photographer Tracy Raver cause tenderness. Tracy specializes in photographing of babies aged about 2 weeks. To get children in such half asleep condition photographer tries to make the studio as warm and welcoming as she can, and moms fed babies right before the shooting. As a result we see absolutely stunning photos of charming sleeping babies. They sleep not only in the crib, but in baskets, socks, dishes … Take a look at these cute pictures and get a positive charge!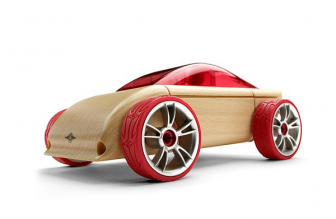 What kind of toys you've dreamed about as a child? Surely you couldn't imagine how the future technological progress will change the kids toys. A lot have changed: a technologies used in toys, materials from which they are made, and even their appearance. But time did not change all kids toys. It turns out that in our time there are manufacturers producing small batches of still the same old good toys.