Music and whiskey have gone together for as long as the two have existed, and for the Irish, Lowden and Bushmills have made a significant impact on each, respectively. George Lowden has been building guitars in Ireland since 1974 and Bushmills has been distilling for about ten times as long and a teamup was almost inevitable. Using barrel wood from the Bushmills whiskey casks, Ancient Bog Oak, and reclaimed redwood, Lowden is crafting a guitar to honor the legacies of both the distillery and his contribution to Irish guitar making. The barrel wood makes up the back inlay, soundbox bevel, bindings, rosette, head facings, and 12th fret inlay, while bog oak is used for the back and sides and reclaimed redwood for the soundboard. These are beautiful guitars that are built to be played and mark Lowden's passing on of his skills, just as the Kane family does with coopering for Bushmills.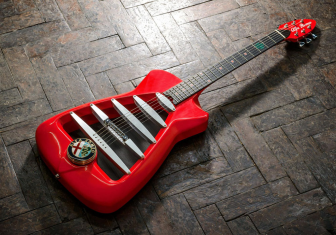 Limited edition electric guitar inspired by Alfa Romeo was created by Harrison Custom Guitar Works in collaboration with famous Italian brand. Each of the 11 guitars scheduled to be built is hand crafted and takes up to 8 months to create. Each guitar is exquisitely styled and feature an entirely custom design which showcases numerous aspects of Alfa Romeo's heritage. The body features the trademark heart-shaped Alfa grille. The body is fashioned from Poplar wood with a Maple cap. The Alfa Romeo badge acts as the volume dial, while the grille-inspired pick-ups, tail-piece and bridge are all milled from high quality solid aluminium billet. The neck is formed from Korina wood – a material used on some of the most legendary Gibson guitars. It features carbon fiber reinforcement and a two-way adjustable truss rod.A discreet Cloverleaf emblem can be found on the third fret. The custom design headstock features 'Hipshot' classic open gear tuners and carries the Alfa Romeo signature. On the back, a metal plaque is inscribed with the production number. The Alfa Romeo guitar also features a special carbon-fibre composite on the back and inside of the guitar. The price for all this Alfa Romeo inspired musical exclusivity is $6,795.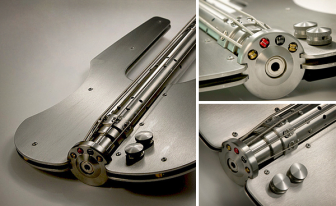 The Stash Stainless is the only bass guitar that is made from stainless steel with unified frets and a tubular neck design. Each piece of the guitar has been custom crafted and hand assembled by the designer, Stan Potyrala. "The design is not only distinct, sleek and modern, but the unique tubular neck presents the fingers of the musician to a parallel array of strings around a circular radius. This allows access of the fingers to each string in a more natural and comfortable way. This design can ease the muscle stress that a flat surface can cause to the fingers, hands and wrist. The composition of the entire instrument (body, neck, bridge and strings) are of the same metal – having one coefficient of thermal expansion. This eliminates relative dimension changes as a result of extreme temperature shifts. This means your bass will stay in tune much longer than conventional basses. The design improves stiffness, mechanical and environmental stability, sound quality, tuning and mechanical accuracy." Want to own this unique stainless steel bass guitar – be ready to pay for this limited edition item $3000.
Today we want to show you something really creative – custom guitar in the form of dragon. This chrome metallic dragon "Draco" guitar was created by Emerald Guitars and it might be one of the most impressively looking guitar. This functional custom guitar was hand sculpted in Thailand and to add some coolness, the eyes are LEDs and glow a nice blue. "My customer had seen Leehom's dragon and wanted a dragon of his own. It was going to be a bass so we had a bigger platform to work with. The brief was quite simple, the bass had to be a flying dragon in outstretched flight. It was going to be quite a lot different than anything I had built before but the challenge was the reward." Have fun!