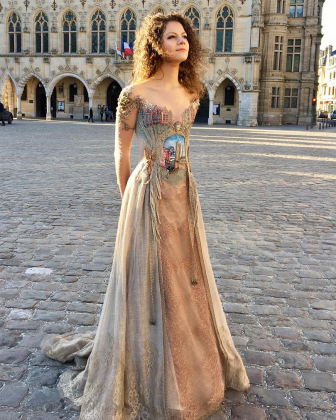 Even though we've already seen historically-inspired dresses and life sized wedding dress cake, these beautiful dresses surprised the wardrobe out of us. French creator Sylvie Facon sews fairytale dresses with such beautiful fabrics and attention to detail, they would steal any catwalk. Facon even crafted one of her outfits from the spines of old texts. She worked on the dress with costume designer Morgane E. Grosdemange, and the steampunk-inspired garment highlights the incredible versatility of Facon's skills. Scroll down to check the clothes even Cinderella would envy and let us know what you think about them in the comments.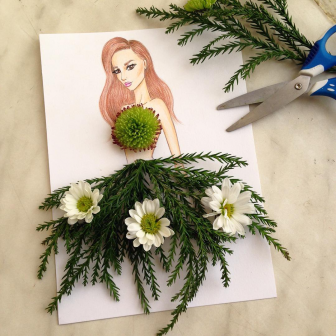 This time we want to show you really interesting artwork by Armenian artist Edgar. Edgar draws beautiful girls and dress them into beautiful gowns made from everyday objects: burned matches, pomegranate seeds and even blue sky. The result is stunning! Take a look at some of his artworks.
18-year-old Angela Clayton adores historical fashion and costumery, taking her love one step further by sewing her own garments. The seamstress crafts long, flowing dresses fit for royalty and exquisite gowns that would make Cinderella the belle of the ball. Her projects take an incredible amount of skill, featuring complicated ruching, hand appliqué, and bodice forming. When each garment is complete, Clayton models her handiwork, taking on the look and attitude of the character who has inspired her. With such complex patterning and construction, it might surprise you to learn that Clayton began sewing only three years ago. Originally, she was interested in creating things for cosplay, since it combined her love of creating, makeup, photography, and dressing up. Since then, she has also translated her interest in history into garments that were worn many centuries ago, including the Renaissance and mid 1800s. Clayton is almost entirely self taught. Thanks to the Internet as well as some trial and error, she dove into the hobby head first. Despite her lack of formal instruction, she's not afraid to tackle the hard stuff. "If I want to create something," she writes, "I'll do something regardless of how complicated it is." This attitude will undoubtedly keep her learning and growing, leading her to her future goal of working in the costume industry. "I'm not sure what job would suit me best, but I know I want to spend my life doing what I love, so it has to somehow involve sewing and dresses."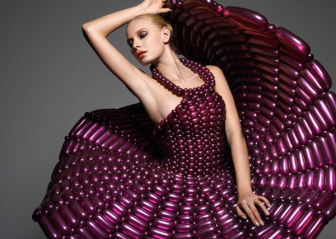 This time we want to show you very unusual dresses. These dresses are made totally from balloons. "Daisy Balloon is balloon artist Rie Hosokai and art director/graphic designer Takashi Kawada. Making the world their stage, this balloon unit travels the globe to exhibit their art." Take a look!