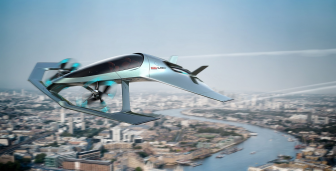 British sports car brand Aston Martin presents the Volante Vision Concept, a luxury aircraft with vertical take-off and landing (VTOL) capabilities. Produced in partnership with Cranfield University, Cranfield Aerospace Solutions, and Rolls-Royce, the project aims to bring chic personal transportation to the sky. The Volante Vision Concept will take full advantage of the latest advances in aerospace, electrification and autonomous technologies, coupled with Aston Martin's signature design. This new concept unites the world's best aerospace experts, propulsion specialists, and designers. The skills offered by each partner ensures that the aircraft promises to offer an exciting alternative transportation solution for customers across the globe. "With the population in urban areas continuing to grow, congestion in towns and cities will become increasingly demanding,' says Aston Martin president and CEO dr. Andy Palmer. "We need to look at alternative solutions to reduce congestion, cut pollution and improve mobility. Air travel will be a crucial part in the future of transportation, the volante vision concept is the ultimate luxury mobility solution."
SolarStratos is a manned aerial vehicle with a two-person capacity, an incredibly large wingspan, and the ability to completely run on solar power! The massive wingspan has a twofold purpose. It not only enables the plane to fly without using as much propelling power, but it also comes with solar panels mounted all over it. The Swiss-based company's plane sets records for being the first solar-powered airplane to reach heights of 25,000 meters. Made from custom as well as off-the-shelf parts, the SolarStratos comes with an Austrian-made 20 kWh battery, solar panels from California-based SunPower, and given the heights it reaches, the pilots will be clad in specially designed pressurized spacesuits made by Russian company Zvezda. SolarStratos's founder Raphaël Domjan hopes to develop a technology that can battle climate change and champion solar power over high octane fuel. Once the technology is proven to work, the company aims to build a 3-manned vehicle too that will include a pressurised cabin and will operate commercial space tourism flights as soon as 2021. And don't forget to check private plane Akoya and electric airplane Panthera.
LISA Airplanes has unveiled AKOYA, a small private plane that can land on water, snow, and land. When it arrives at its destination, the aircraft's wings can be folded in an instant, enabling it to be stored in a garage. The project was developed by a small team in the heart of the French Alps. The specifications were more than ambitious: the aim was to create an 'all-terrain' aircraft that performs well and is aesthetically pleasing, comfortable, and easy to fly. One of the AKOYA's many features is the use of 'Seafoil,' a patented technology developed by LISA Airplanes that enables the aircraft to take off from water. AKOYA also features retractable landing gear, fitted with wheels and skis, enabling the pilot to land on both snow and land.
The Pipistrel Panthera 4-seater aircraft has been unveiled at the Aero Expo in Freidrichshafen, Germany.This compact plane can zoom in the skies at 200 knots of speed, but consuming 41% less fuel as compared to anything within the competing league. It can be ordered with a standard, albeit highly efficient, gas engine. But it's also available in an all-electric model, which can cover a distance of 400 km on a single charge and is supported by the state-of-the-art battery system for the environmentally conscious high-flyers. Besides a slick streamlined design, the inside of the Panthera includes generously sized touchscreen aviation instruments, front seats that look like they were lifted from a luxury sports car, and extra wide back seats for added passenger comfort. There's also plenty of storage space for luggage.