Vanichi Magazine has partnered with Los Angeles-based photographer Viktorija Pashuta to create a sequel to her photography series, "What If Girls Were Internet Browsers". The new project, "What If Guys Were Social Networks", is a concept fashion photo shoot that pictorially answers the question: "What would popular social networks look like, if they were actually human?" Viktorija explains, "With the age of social media and its influence on everyday life, we feel its direct presence and the necessity to use these channels as our main source of communication and sharing of content. While socializing with friends, relatives, and colleagues online, the actual online platforms sort of become 'alive.' And then I thought: 'What would happen if I tried to humanize well known social networks? The idea was not only to use the social media logos as a visual reference, but also to transfer their qualities and usability functions into human character portrayed through fashion."
Croatian designer Tomislav Zvonarić well known for his creative Facebook bed recently created a design concept of Facebook ice cream and called it Facecream. Just in time for summer comes a tasty design concept for tech fans. Tomislav says "I wanted to make something for the hot summer days. It's not real, but it's a fun design." It would be interesting to see what flavor options would be. But we hardly see it in stores. Though pretty interesting concept. Don't you think?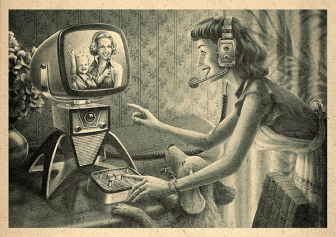 Company MaxiMídia is one of the largest in Brazil focused on modernization and developing the industry of marketing communications in the country. Agency Moma São Paulo presented a series of prints for advertising company seminars, aimed at to familiarize professionals with new opportunities of using social networking and other tools of communication through the Internet. Prints are made in the futuristic style of the 50-ies to attract the attention of the older generation that remembers this kind of posters. Take a look at these vintage images – they are really interesting and worthy of your attention!