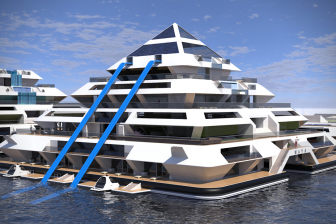 Throughout the annals of recorded history, man has always dreamed of making the ocean his domain. Architect Pierpaolo Lezzerini's fantastic vision of a buoyant city on the water mixes Mayan and Japanese architectural influence to create his concept Wayaland, a remarkable vision of a future, afloat. From Lazzerini's imagination springs a luxury watery community, equipped with everything that a small populace needs, including shops, restaurants, bars, spas, gyms, tennis courts, a movie theater, and even a casino.
Take the Rev House is a personalized and built-to-order home on the water that's perfect for anything from weekend getaways to seasonal stays. Each Rev House is developed by individuals who embraced the yachting lifestyle, be it afternoons on the water, evening dinner parties, or more group-oriented social gatherings. It's designed with high-quality in mind and comes with a myriad of options including saunas, jacuzzis, floor heating, large walk-in closets, fireplaces, underwater lighting and even solar panels and sewage treatment systems. And because they're designed by yachting professionals, the hull and superstructure come with a 20-year warranty. The Rev House also boasts over 1,000 square feet of rooftop terrace space, allowing you to survey the land as you peruse the intercostal waterways thanks to the home's motorization capabilities; it is a boat after all. Prices available upon request.
Saunalautta is a floating sauna houseboat that is now available for rent in Finland. Built out of recycled wood, the raft features a bedroom with four bunks, and a hot steamy sauna on the lower level, on the top level you'll find a rooftop observation deck, a barbecue, and hammocks, making it the perfect place to unwind on the water with friends. A small outboard motor is used to power the vessel.
Designer Stephen Turner has teamed up with the likes of SPUD Group and PAD Studio to create a Exbury Egg floating house that will serve as home for the next 12 months. Shaped like a giant wooden egg, the shelter was constructed using boat building techniques, which means there should be no issues if the water gets a bit uneasy during a storm. Equipped with everything from a small stove and shower to the hammock bed and desk, this tiny dwelling has all the essentials. As you may have already guessed, the residence utilizes solar power for electricity, keeping you completely off the grid.