Food illustrator & food stylist Anna Keville Joyce see a food in her plate under unusual angle. And perhaps it's very similar to Hong Yi, his Creativity with Food project we've shown you some time ago. Anna's project entitled "A Tribute to Budgie" represent a series of plate illustrations that are made up of 100% food elements. Enjoy the photo gallery below!
It is generally agreed that for each type of food exist perfect type of drinks. And Nashville based food photographer Kyle Dreier decided to show how to compose them ideally. In the project called "Pairings Series: Food & Drink…and String" he composed perfect pairs of food and drink. And if you don't know or doubt what to choose for your dinner take a look at this series and you will know!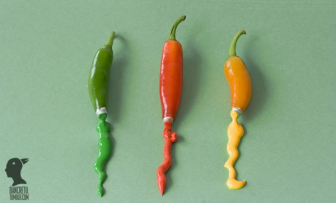 Food gives not only vitality but also inspiration. Talented Romanian artist Dan Cretu inspired by various fruits and vegetables created a great collection of objects design with food. Edible art works have different forms, look like animals, human faces, cameras, bicycles, motorcycles, and many different and familiar objects. Take a look and hope you will like them!
French food designer Emilie de Griottes for a special feature in french culinary magazine Fricote developed dessert tarts that recreate Pantone colour swatches. Berries, carrots, lemon, candies, and other foods are arranged upon a tart base, whose bottom is iced in white and marked with the pantone colour represented. You can find recipes for making the tart in Fricote issue number 6 (2012). And meanwhile take a look at this collection of desert tarts.