The group of Japanese friends comes up with some rrrrrrrroll gifs. These animated gifs show pictures of people and objects constantly rotating around their own axis. The makers photographed the pictures mainly during their common activities and aim to keep the outcome as simple as possible. Due to that the gifs don't seem hectic though they turn perpetually – similar to a babbling brook or a roaring fire one can enjoy staring at them for hours. Have fun!
Artist Zach Doughterty creates bizzare, strange and at the same time interesting GIF animations. Zach's works are not stagnant photographs, but vibrantly alive animated GIF's that have us staring in astonishment. Dougherty's unique blend of photography, 3D art and animation make us question reality and smile in pleasure at his unique spin on life. Enjoy!
Some time ago we've shown you lifelike cinemagraphs by Jamie Beck and Kevin Burg and this post got a lot of your comments and likes. Today we want to continue this theme and show you another great gifs. Created by Brooklyn-based trio The Saline Project these images are part of their image series entitled "Monsters, Villains, Heroes and Victims" (MVHV). "We photograph and do everything (costume, hair, makeup etc) in house at our studio. We cut up and dimensionalize the photograph in computer. We design the background using location photos we've taken over the years, and 3D models. Creating the space and getting the dimension right has been one of the most difficult parts." It's a series of thirteen 3D lenticular images and today you will see three of them. The rest will be released in Halloween. Obvious, huh?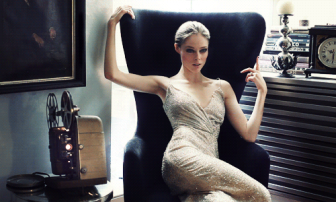 Today we want to show you "more than a photo, but not quite a video". Art works of artists duo: New York City-based fashion photographer Jamie Beck and visual designer Kevin Burg. They created amazing series of animated GIFs called "cinemagraphs". They really raised the GIF animation to a new level. People on these cinemagraphs are smiling, wind is ruffling their hair… And the first that came to mind is magical photos from movies about Garry Potter. It seems like they will just step out the photo and ask you for a cup of coffee! Just take a look and you will surely enjoy cinemagraphs!