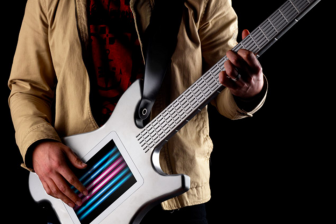 Over the years famous guitarists such as Eric Clapton, Jimi Hendrix, B.B. King, Carlos Santana and many others have made major contributions to the music industry. With those amazing moves and savvy performances, guitarists have taken the guitar's reputation past the skies. A common custom or acoustic guitar looks pretty ordinary with its wooden body and nylon strings. But there have been some pretty revolutionary and unusual guitars as well that have really left a mark over time. Creativity is all about pushing the boundaries and come up with something extraordinary. How about knowing more about the top 10 most unusual guitars in the world?
The Jamstik+ is a digital guitar that works wirelessly in conjunction with your smart devices, to teach you how to play guitar. It offers interactive guitar lessons through a series of free apps , and works with a multitude of other music apps and platforms, so everyone from beginners to pros can play. The Bluetooth connection to your device is fast, stable, giving you the freedom to practice and play anytime, anywhere. The Jamstik+ interactive teaching apps walk you through learning chords and songs step by step, with sensors in the Jamstik+ that detect the placement of your fingers and display them in the app interface, giving you instant, real-time feedback just like a live instructor – but on your terms, and at a fraction of the cost. Best of all, absolutely no music experience is required to pick up the Jamstik+. It doesn't even need tuning! And if you're a guitar player already, the Jamstik+ is a versatile MIDI controller, compatible with hundreds of apps, so you can create virtually any sound you can think of. You can buy this guitar here.
Self-taught woodworker and industrial design student, Nick Pourfard of Prisma Guitars, designs and builds one-of-a-kind guitars out of his workshop in San Francisco, California. Inspired by his love of skateboarding and music, Nick decided to combine the two and ended up creating colourful guitars using broken and used skateboard decks. Nick has also created a variety of guitar accessories too.