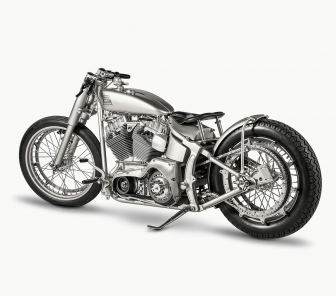 Julian von Oheimb is the ower of the shop One Way Machine. He pulled out all the stops with this industrial-looking Softail, which he's nicknamed Iron Riot. He bought a 2001-model carbureted Harley Softail Standard, in perfect condition, with just 1,400 miles on the clock. Straight away, Julian took the rigid mount, 1450cc Twin Cam motor out of the FXST frame, and dismantled the bike for a thorough inspection. The next step was to clean up the engine, transmission and oil tank. He's kept the Softail's original CV carburetor, but it looks even shinier than when it left the factory. The engine internals were in immaculate condition, so the powerplant has just been treated to a new air cleaner and rocker boxes, plus a new points cover. The breathing is revolutionized though, with a simple and elegant exhaust system.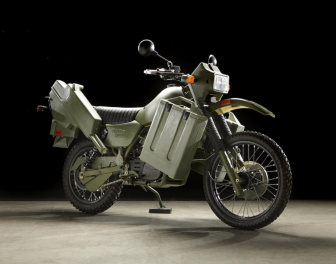 The Harley-Davidson MT500 is a bit of an unusual motorcycle. It's thought that just 500 were ever made, and it's not known how many have survived in original condition. The MT500 is powered by a 500cc Rotax single-cylinder, air-cooled engine with 4 valves, 5 gears, and kickstart only. It's a mechanically simple motorcycle designed explicitly for military use – though it's broad adoption never took place due to many militaries only wanting diesel-powered vehicles for matters of logistical simplicity. The basic design started in Italy, before finding its way to Britain, being put into production with the Armstrong-CCM company in 1984. The model saw limited military use in Britain, Jordan, and Canada until it was phased out in 2000. Harley-Davidson isn't a stranger to badge-engineering motorcycles, and if you look back over the long arc of motorcycle history there are very few established marques that haven't at least dabbled with rebranding bikes. The reason Harley bought the MT500 stateside was the hope of acquiring a military contract with the richest armed forces on earth. Sadly it never came to be, largely because of the aforementioned diesel-only guidelines. The majority of the Harley-Davidson MT500s that were built, were built to the same specifications. There are twin jerry can holders either side of the fuel tank – designed to hold either water or fuel. There's a waterproof rifle case on the rear right side for an M16 or similar, and the case is designed in such a way that it can take both scoped and unscoped weapons. All-original MT500s only rarely come up for sale, possibly because collectors are sitting on them in anticipation of a value increase as they edge closer to vintage territory. The 1999 model you see here is estimated to be worth between $20,000 and $24,000 USD, and it'll be crossing the auction block with Bonhams in Las Vegas on the 26th of January.
Somewhere between classic and contemporary, heritage and novelty, a new amazing classic and retro-futuristic Harley Davidson motorcycle concept, with aerodynamic shell was designed by Alex Padwa & Davidi Gilad, 2 designers who don't pretend to know about motorcycles, just about lines. Its single beam headlight and rear fender wheel cover harken to days past while its extreme sloped seat and aerodynamic shell look to tomorrow.
Harley-Davidson is about to change. The iconic brand have introduced the LiveWire, a step toward the future. The Project LiveWire Experience is a research project into the viability of an electric two-wheeler for the bar-and-shield brand, it will take the bike on a 30-city tour across America to gather feedback from consumers before actually going into mass production. So what do you think? Is electricity the way to go even for Harley? And don't forget to check our list of the fastest bikes of the world.