Slovenian architecture firm OFIS Architects developed a living unit. Research for the cabin was initiated by OFIS Architects and Permiz, C+C, C28 and AKT to develop a self-contained wooden shell, flexible and adaptable for different locations, climate conditions and terrains. This compact house can be used as holiday cabin, a hideaway, treehouse or even a temporary habitation for research. OFIS Architects' basic living unit (4.50 m x 2.50 m x 2.70 m) offers accommodation, including a kitchen, bathroom, bed and seats. It joins horizontally and/or vertically and can be upgraded to twins-sized, triplets or similar. The structure is made using timber frames, which are reinforced by plywood boards on both sides. The cabin can be fixed on the ground either by steel anchors or removable concrete cubes. The interior treatment is changeable and flexible and the unit furnishings can be used in various site contexts.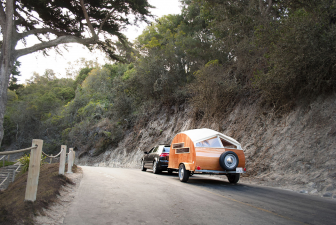 Today we want to show this sleek teardrop trailer called a Hütte Hut ("Hütte" in German also means hut). The Hütte Hut is hand-built by the husband-and-wife team of Brian and Katrina Manzo at Sprouting Sprocket Studio in Carpinteria, California. This wood-and-canvas tent on wheels offers a small but charming space to rest on your journey, featuring plenty of natural light and eye-catching exterior that will surely stand out on the interstate. It's a prototype at this point, but the couple envisions future versions to be built with a computer-controlled wood-cutting machine. They apparently got the idea after a trip to Amsterdam where they stayed at the citizenM Centraal, a hotel made up of more than 200 shipping containers.
For an international competition aimed at the design of a lodge located in the High Tatra mountains of Slovakia, Atelier 8000 has proposed a cube volume rotated onto one of its corners. Known as "Kežmarské Hut", the structure is intended to be a sustainable dwelling for high terrain adventurers during all seasons of the year, able to perform autonomously in regards to energy usage. The formal strategy is aimed at producing visual lightness, and prompting a feeling of disorientation within the viewer. Having seemingly fallen from the sky, the building is reminiscent of a boulder resting among the landscape, with crisp edges and a high peak which relate to the surrounding mountains. The cube's facades are subdivided into square panels of reflective materials, including predominantly aluminum as well as sections of glass and photovoltaics. From any given viewpoint, three of the form's faces are visible, thus providing a legible reading due to distinct light/shadow tones. An elevated patio wraps two sides of the building to provide an outdoor dining and relaxation area for mild temperatures.