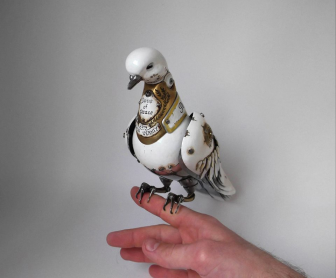 From heaps of scrap metal, old bike chains, and silverware, Russian metal artist and steampunk sculptor Igor Verniy creates birds, butterflies, and other unusual creations. Many of his steampunk and cyberpunk sculptures are made to be fully articulated, with dozens of moving or adjustable parts enabling each piece to be posed in several lifelike positions. "The 22-year-old master Igor Verniy graduated from Moscow State University, he is an engineer in the field of metal, a specialist in the evolution of stars and astrophysics. Igor Verniy writes on his page: "In the 21st century there are still fans of old school ideas. These are people who are nostalgic for rusty metal, gears, and the smell of motor oil." Igor is one of those True Metal fans.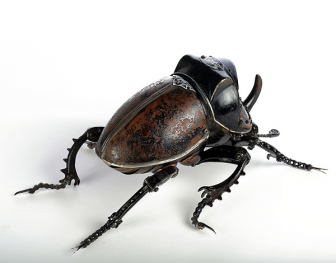 To get these stunning insect sculptures French artist Edouard Martinet uses part of a car, bicycle, umbrella, compass, typewriter, clock, compass and much more. The artist does not solder or weld parts but assembles them with the precision of a watchmaker, screwing them together and taking around a month per sculpture. Martinet takes about a month to make a sculpture and will often work on two or three pieces at the same time. It took him just four weeks to make his first sculpture and 17 years for his most recent completion! Some of his work will be on show at Sladmore Contemporary in London, opening November 27th.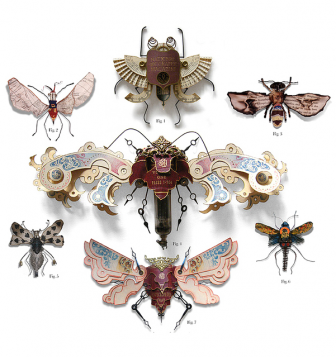 British artist Mark Oliver has created a series of insects called "LitterBugs" brought to life entirely from trash. Using eyeglass-arms for antennae and clock hands for legs, the species was developed in order to adapt to the harsh and changing urban landscape. The creatures are part of an invented genus, affectionately categorized in a document known as the "compendium of carabid and terrestrial detritus" – each one having been given their own title and scientific name, some based off the found objects they are built from.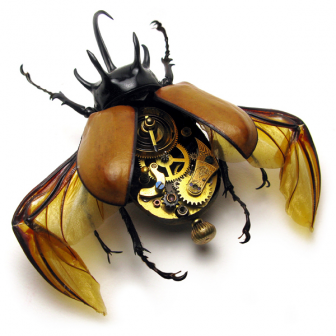 Since the late 1990's style steampunk is becoming more and more popular, and not only in the literature. Various modern utilitarian objects have been modded by enthusiasts into a pseudo-Victorian mechanical "steampunk" style. And often this stylization gives very unexpected results. Like, for example, art works of american sculptor Mike Libby. His studio Insect Lab make robots from dried insects. Insects for his works come from around the world, from Africa, China, New Guinea, Brazil, Texas, etc. Each cog or gear wheel from antique pocketwatches and wristwatches are used as mechanical components. Each small robot from his collection is unique and costs a lot of money – price for the one robot ranges from $600 to $2500.