The digital time presented in a new and innovative form. Kisai Neutron features sub-surface LED light bars that curve around your wrist like a time piece from the future. A customizable design, you can choose whether the watch displays the time by pulsing in & out or waving up & down. Integrated motion sensor technology means you can activate the display with a flick of the wrist or at the touch of a button. Kisai Neutron is very easy to read. Touch the button and four digits of time will appear on the display. These indicate the time in your choice of 12 or 24 hour format. Depending on whether you choose fade mode or wave mode, the digits will pulse in & out or wave up & down. Touch the lower button and the date is displayed in the same way in your choice of DD/MM or MM/DD format.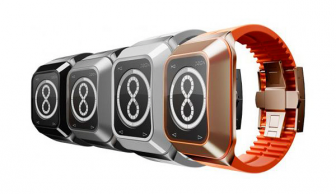 Every year you're looking for present for your friends and relatives. Sometimes it's a really hard task. But have you ever thought that watch could be a very good present? In today's post we tried to collect the most interesting and creative digital watches: LED and E-ink based. Along with spectacular concepts you'll find a lot of models availiable for purchasing. Check this collection carefully and you'll certainly find proper LED watch. If watch isn't suitable for you as a Christmas present – be sure to check our other collections of creative mugs, stylish mouses or desk lamps. May be they will inspire you!
We've alredy shown you a lot of watches including concepts but this watch is really interesting. The main idea of this stylish LED watch created by industrial designer Igor Chack is that you can change teh face of the watch with a click of a button. "For example, you can enjoy the beauty of a mechanical movement, a smooth balanced masterpiece or break the rules of a physical world and have something that would be impossible with a traditional watch. It could represent your style, your mood and your personality, as any of those change, so does your watch." You will be able to buy watch oNe in March 2011.