The 15 Minutes Lamp is an innovative fusion of a sand-timer and mood lamp that comes handy at night. As the sand flows towards the light at the bottom, the illumination dims out. In about fifteen minutes or so the entire lamp portion gets covered, the lights go off and you are fast asleep. The timer can be adjusted to 15-minutes interval and when the sand flows down completely, the power is automatically switched off by the weight of the sand. 15 Minutes Lamp is a 2013 IDEA Awards winner. Designers of this creative lamp are Hye Min Lee, Hye mi Lee and Sun Hwa Jung.
The Goodnight Lamp is an innovative social communication tool created by a group of designers in London, UK. The concept of the lamps is to create a new, playful and effective way for families and friends to communicate with each other. These WiFi-connected lamps can be plugged in virtually everywhere, while then using that connection to communicate amongst each other around the world. When one connected lamp is turned on by a family member in New York, its loved ones in Paris see that light illuminate by its duplicate on their own network. The Goodnight Lamp has a variety of uses for families, colleagues and friends who wish to stay connected in a simple, meaningful way.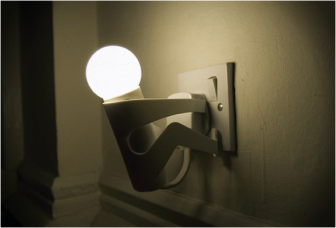 If you don't like to sleep without light then you should pay attention to this fun night light "Martyr Monkey". It has an automatic sensor that automatically lights up the lamp depending on a rooms lighting conditions. When the room gets dark or dim the night lamp automatically lights up, when the room has enough natural lighting/artificial lighting, the sensor automatically switches off the lamp/light. It looks pretty cute and all your nightmares will disappear in its light. You can buy it here.