Nissan Motor Corporation and premium automotive brand INFINITI have unveiled a sleek, open-wheeled electric retro-roadster prototype at the 2017 Pebble Beach Concours d'Elegance. The car, called Prototype 9, is a celebration of Nissan Motor and INFINITI's ingenuity, artistry and craftsmanship. It represents a reimagining of a 1940s race car with time-honored production techniques employed to realize its retro design. Prototype 9 is emblematic of INFINITI's entrepreneurial spirit and passion for stunning design. From humble beginnings as a sketch, to the dynamic example presented at Pebble Beach, Prototype 9 has been brought to life as an after-hours endeavor by a passionate and enterprising team of employees from across the Nissan Motor Corporation.
The car is powered by a prototype electric motor and battery from Nissan Motor Corporation's Advanced Powertrain Department. This nod to the future contrasts with the traditional materials and techniques applied for the Prototype 9's manufacture, including panels hand-beaten by a team of Takumi – Nissan Motor's master craftspeople. Prototype 9 was inspired by an emerging era of Japanese motorsport. The custom-built Prince R380, which also will be shown during Monterey Car Week at The Quail, a Motorsports Gathering, broke several land speed records in 1965 before taking overall victory at the 1966 Japanese Grand Prix at Fuji Speedway. Prince Motor Company is considered to be Japan's original builder of premium automobiles, and its legacy can be traced to INFINITI Motor Company and its current model line. Finished in a bare sheet-metal skin, Prototype 9 is the result of countless hours of careful construction.
The designs of the brand's contemporary road cars are characterized by deep-stamping production methods, which enable the creation of sharply defined lines and smooth body surfaces. Far from production lines, this out-of-hours project required similarly technical yet more traditional crafting methods. The vehicle's stunning bodywork is made from steel body panels wrapped around a steel ladder frame. The panels were hammered into shape by the Takumi. For Prototype 9, panel beaters incorporated INFINITI's signature design elements, such as the double-arch grille, 'shark gills' aft of the front wheels, a single-crease hood, and sharp lines that stretch from front to rear. In every other respect, the car is unashamedly inspired by retro aeronautical designs. Prototype 9 is defined by its smooth, aerodynamic surfaces, long bonnet and short overhangs, an exposed cockpit, and open-wheeled layout. 19-inch center-locking wire-spoke wheels at each corner are even wrapped in period cross-ply competition tires.
Nissan is bringing a working version of the BladeGlider all-electric sport concept it first revealed in 2013 to Rio to ride the hype wave of the Olympics. It's futuristic Nissan BladeGlider vehicle, combining zero-emissions with high-performance in a revolutionary sports car design. The debut of the Nissan Bladeglider prototypes forms part of Nissan's on-going commitment to the development of zero-emission vehicles and new automotive technologies including autonomous drive systems and connectivity. Nissan already sells the world's highest-volume zero-emission car, the LEAF, and is pioneering Intelligent Mobility systems that will be deployed in a range of vehicles over coming years. The demonstration models feature an advanced chassis configuration with a narrow front track and wider rear track for optimum aerodynamic efficiency and handling stability. High-waisted, rear-hinged dihedral doors provide a dramatic entry and exit to the cabin. The open roof of Nissan BladeGlider is reinforced with an integrated roll-over protection structure, providing the exhilaration of an open-topped race car with the safety of a coupe.
Wheel-mounted controls for Nissan BladeGlider's systems feed into an advanced display showing speed, state of battery charge, regeneration mode and torque map. Flanking the central display are two screens, with the images of rear-view cameras mounted just behind the front wheels. An alternative to door-mounted mirrors, this dual screen design improves the aerodynamic efficiency of Nissan BladeGlider. The driver sits in arrowhead formation slightly in front of two passengers, who enjoy extended legroom. The view for all occupants is panoramic thanks to the seamless cockpit windscreen. Power is 100 percent electric, with exceptional powertrain performance delivered by Nissan's technical partner for the Nissan BladeGlider project, UK-based Williams Advanced Engineering. Maximum speed of the demonstration models is in excess of 190km/h*, with 0-100km/h taking less than five seconds*. The rear wheels' drive is provided by two 130kW electric motors – one for each wheel. The interior of the Nissan BladeGlider reflects the vehicles' sporting intentions, with four point safety harnesses for each occupant. The seats offer exceptional support to sides and legs of the driver and passengers. The seats are trimmed in a highly tactile blend of fabric and epoxy resin coating, resulting in a tough and grippy material that has the effect of comfortably securing occupants in place. Two Nissan BladeGliders will be presented in Rio de Janeiro in August. One will be on static display in Rio while the second will be offering dynamic rides to media and VIPs.
We've often heard of the weird ways astronauts have to eat while in outer space. Nourishment is essential to human survival to the point even rather unappealing dehydrated meals are an invaluable companion for a space adventure. But in order to protect astronauts' lives and accomplish a space mission, there are plenty more details that NASA has to take care of. Among them, one is often overlooked but vital to say the least. We're talking about astronaut seats, which at the American space agency enjoy the attentions of a dedicated team of engineers and designers. Such seats have to resist enormous 3G pressure and support the astronauts body adequately, yet their weight needs to be kept as low as possible. While not many official details about NASA seats have been made available, their concept is based upon lightness, adjustability and endurance. If the importance of seats is not marginal for a space mission, the impact of a good posture and comfortable seating on our daily life shouldn't be underestimate, either. A unique case is the automotive world, where fatigue through long journeys can impact the driver's safety and eventually lead to fatal accidents caused by exhaustion. In this respect, it is very interesting to see how one of the world's top carmakers, Nissan, has made NASA-inspired "zero-gravity" seats both a main feature and selling point of its new Nissan Altima. Flanking the similarly priced new Nissan Sentra in Dubai, this car is going to follow the company's philosophy of affordable luxury and comfort.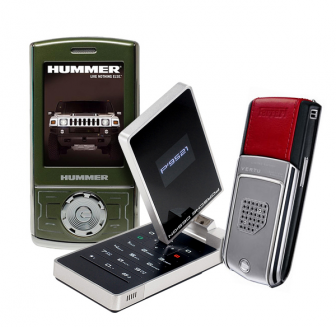 Continuing the theme of cooperation car brands with various industrial companies we want to show you ultimate collection of beautiful cell phones. Featured below phones are result of hard work of designers of luxury car brands and well-known mobile companies. Apart of using expensive materials these cell phones have interesting design and some additional non-standart options.