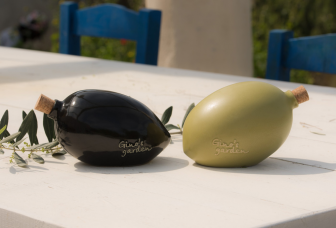 Gino's Garden Olive Oil is the finest quality of olive oil that can be produced. What makes this olive oil so special is the short window of time (only 6 hours) in which the olives are first hand-picked from Gino Haddad's grove and then cold pressed. Each year only a limited quantity of the olive oil is produced, and with a product this special it was a natural evolution to design a custom bottle that would reflect that. The following packaging design was created by Marios Karystios.
When we're talking about olive oil we used to see quite standard bottles. But not this time. Today we will show you very unusual packaging design for a new premium series of Greek extra virgin olive oil. "5" stands for quintessence in olive oil. Brand identity and packaging design were developed by design team Designers United that was brought into being by acclaimed art directors Dimitris Koliadimas and Dimitris Papazoglou in order to engage visual research and systematic methodology into the design process. Have fun!
Let us show you exellent example of creative packaging design. This unique box was created by Junko Kirimoto and contains three bottles of premium olive oil from Estate of Carma. "The box has the appearance of a great book (the cover having been inspired by the volume of an encyclopedia) and communicates how the production of extra-virgin olive oil in Italy is considered almost a cult, a concept that perfectly reflects the sophistication and the superior quality of products inside."
If you think that olive oil despite its indisputable helth benefits is cheap and common thing, let us surprise you. This the Lambda Oil by Sperion Co. is world's first luxurious oil. Its uniqueness is in its packaging design. This Lambda olive oil bottle lets its buyer have his/hers signature embossed on the sleek, minimalistic flask-like Lambda bottle along with a special marking for this exclusive edition on the shoulder of the bottle. An this little nuance will cost you $15,200 per bottle. The design of the bottle is really stylish but the question is: are you ready to pay such extra cash for your signature on the bottle with olive oil?