Japanese artist Riu creates remarkably intricate paper cut designs. Winner of multiple online art competitions, the young artist maintains an Instagram account and blog that each showcase a stunning display of technical skill within delicate patterns. Papercutting is a worldwide tradition that has evolved within many cultures. Symbolic and decorative in nature, it has both aesthetic value and therapeutic properties. Riu often creates pieces composed of mandalas and other striking complexities that reflect beauty seen in the natural world. His captions also reference quotes of love and peace that complement the harmony apparent in the artwork. Meticulously detailed, Riu displays professional levels of talent in his larger than life zen images.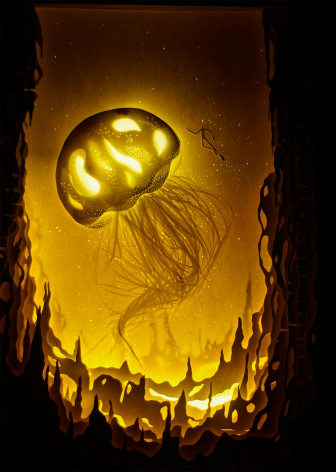 As part of a new exhibition at Black Book Gallery in Denver, artists Deepti Nair and Harikrishnan Panicker (aka. Hari & Deepti), have created a new body of work titled "Oh, The Places You Will Go!" The artist couple were inspired by recent travels through Moab, Utah and Yellowstone, Wyoming, and transformed elements of their adventures into delicately hand-cut paper sculptures infused with mythology and science fiction. Each piece is lit from behind or below with LED strips and the boxes are exhibited in dark rooms to enhance the effect.
Lisa Nilsson's anatomical cross sections have a realistic look that makes us cringe slightly as we look inside a duck, a human brain, or human lungs. The cross sections are created from carefully spiralled, folded, and rolled strips of tissue, specifically Japanese mulberry paper, and reclaimed gilded edges from books. Lisa Nilsson's patience and steady hands are evident in every piece created using the ancient of quilling. The results are stunning their realism. The stunning rolls, folds, and twists in paper create a feeling of admiration at the skill required to create these fascinating, but sometimes unsettling, cross sections of life. Have fun!
Today we want to show you something extra creative. This form of art is quite unusual but it is amazing. Mostly because all these beautiful perspectives were created using ordinary paper rolls and manicure scissors and tweezers. The author of these stunning rolls is illustrator from France – Anastassia Elias. Definetly Anastassia have creative mind and a lot of patience.