Crafted in collaboration with a group of Armenian artists, entrepreneurs, and clergy members, the new Montegrappa Erebouni series of writing instruments pays tribute to Armenia, the storied nation straddling Europe and Asia between the Black and Caspian seas. Carrying the ancient name of Armenia's capital city of Yerevan, the collection comprises three versions: the top-shelf Hokevor, the limited-edition Haverj, and the standard-edition Kragan. The Erebouni collection is heavily driven by symbols that recall the country's heritage and history, especially the Hokevor and Haverj pens because they feature intricate die-cast metalwork depicting the 17th-century Zevartnots church on the cap, a reference to Armenia as the first Christian nation; pomegranates on the barrel and cap, a cultural representation for life; the Eternal Flame of Yerevan's Dzidzernagapert memorial, lit in memory of the estimated 1.5 million victims of the Armenian Genocide; and a teardrop-shaped blue cubic zirconia by Swarovski on the clip, symbolizing both grief and hope. Ranging in price from $5,699 to $53,000, the Hokevor series is available in three versions – vermeil, sterling silver, and solid gold (made to order) – each of which is limited to just 100 pieces. The Haverj pens range in price from $1,750 for a sterling-silver roller ball to $2,350 for a gold-plated fountain pen, with each style limited to just 1,915 – a respectful nod to the date of the Armenian Genocide. The Kragan pens are special illustrated editions of the classic Montegrappa Fortuna and are priced from $790 for a yellow-gold ballpoint to $820 for a rose-gold roller ball.
You've probably seen a lot of luxury pens on BeautifulLife – Montblanc 2012 Writers Edition: Jonathan Swift or Limited Edition Luxury Pen from Pecorari Modena. Unlike these luxury pieces of art the following ones are cute positive pens. Collection "PenPals" designed by Yaacov Kaufman & Yoav Ziv consist of 3 items: Red Devil, White Knight and Black John Doe! "Friendly companions for your pocket or for your notebook, they are also a great gift that will never go unnoticed. Pen Pals like company and look best in pairs or more." If you want to buy it you can do it here.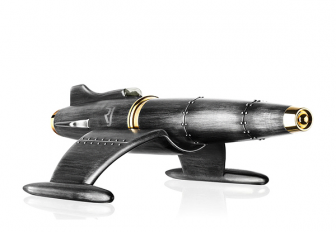 Romain Jerome, creator of the DNA series of luxury watches, has also created a collection of luxury fountain pens. Created in 2008 the Titanic-DNA Fountain Pens collection is limited to a series of 88 exquisitely handcrafted pieces only. In a tribute to the Titanic ship, the pens are crafted from the finest materials, including Palladium, brass, PVD, stainless steel and gold. Each Romain Jerome Titanic-DNA fountain pen is decorated with a ring of oxidized steel at the barrel with the metal being a blend of materials reclaimed from the actual sunken ship and steel obtained from Harland & Wolff shipyards where the Titanic was built. Extra new the MoonFighter pen is made from a combination of MoonSilver – an alloy of moon dust and silver – and fragments of the Apollo II. It boasts 48 hand-fixed rivets, a titanium point, and a wing-shaped dock. The Moon Fighet is limited to 888 items. Have fun!