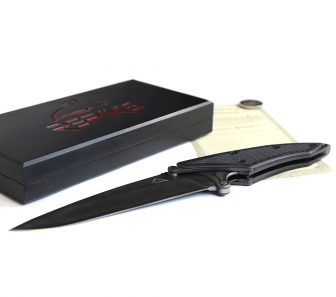 Alberto Gariboldi from Repiks is a young knife maker and inventor of the LOCKIN', an large tactical folding knife with a blade that is considerably longer than the handle, which was never thought to be technically possible. In the closed configuration, the mechanism allows to accommodate a blade that is much longer than the handle, making it possible to carry a foldable knife that, when open, is as large as one with a fixed blade. "The LOCKIN' system was born with the goal of combining the characteristics of the fixed knife with the one of a closable in a single object. It is based on a four-center and five pins roto-translation movement. The open configuration system has different supporting surfaces between the components, making it particularly rigid and robust, with high survival performance and extremely durable even for the most demanding operations. The engineering of this knife, in fact, causes the LOCKIN' to flex-twist and have a strength similar to a regular fixed knife."
The late American artist Frank Frazetta was a pioneer of fantasy and science fiction art, his vivid creations gracing the covers of books, comic books, music albums and many other things. In honor of his genius and incredible work, the Oregon-based men's accessories brand William Henry has introduced the stunning Silver Warrior collection. Inspired by the artist's 1972 Silver Warrior painting, depicting a sword-wielding warrior atop a sled being pulled through a snowy landscape, this incredible collection includes bracelets, pendants, necklaces, a ring, a miniature pocket knife, and even a key fob.
The following anti-boredom Swiss pocket knife created by Israeli designer David Suhami is a funny mix between the traditional Swiss box cutter and an exotic jungle safari. David has created an "animal pocket knife" while at Shenkar College of Engineering and Design in Tel Aviv. He turned this common object into giraffes, antelopes and rhinos. Made of stainless steel and Tabebuia wood, it allows up to 81 different combinations. Take a look!