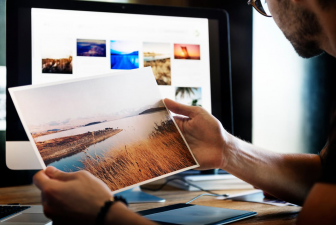 In this article we will tell you about how to make a online portfolio without any special skills in web development. In fact, there are many information in the web on how to create a site for portfolio by yourself. But we will be honest with our reader – if you're not a professional web developer, if you're not an experienced web designer then you should leave this idea since you will get nothing worthy. You won't be able to quickly create a good online portfolio on WordPress. And here the best solution will be using portfolio website builder. By the way portfolio builders is not the only one solution to publish your portfolio online. You can publish your portfolio on such special sites like Behance and DevianArt, you can publish in social networks, but the best solution, of course, is to have your own portfolio site on your own domain name. And for this purpose portfolio builders are the best suitable. This is a special online soft allowing to quickly, easy (and very often even free) make an online site for artist of different niches: designers, photographers, sculptors and other artsy people.
Website builders – is the easiest way to make a site for publishing a portfolio – both photo and video. Modern portfolio online builder have easy-to-understand web interface, they are SEO friendly and easily integrated with social networks. So, you will be able to share your works or photos both on your site and in social networks. Also, the best web builders allow to sell your works directly from your site-portfolio. Also other our post – 15 Best Free Website Builders – can be useful for you if you want to create your own website. And Best eCommerce Web Builders will be useful if you want to create online store.
If you're a photographer then your obvious desire will be to share results of your work with wide audience. And what is the best solution for this purpose? Of course, your personal photo gallery or photo portfolio. There are many ways to get your personal photo gallery website and one of them is to use one of the best website builders for portfolio. You can check our previous post: TOP 10 Best Website Builders for Creating Online Portfolio. But today we will show you collection of the best premium photo gallery WordPress themes of 2015. As you know WordPress is an easy-to-use CMS for any kind of websites including photographers portfolio and there are lots of free themes available for downloading. But it's also obvious that only premium ones will provide an excellent design, perfect coding, lots of modern features and options, in-time updates and customer support. Also there are many plugins and scripts for WordPress – both free and premium. So by choosing premium photo gallery WordPress theme you pay once and get everything you might need for perfect website's operating. So, check these premium photo gallery WP themes, choose the one you like most and launch your website!
Photolux – Photography Portfolio WordPress Theme [ download here ]
Photographer Portfolio Responsive WordPress Theme [ download here ]
King Size – Fullscreen Background WordPress Theme [ download here ]
Simple Photographer Portfolio WordPress Theme [ download here ]
Expression Photography Responsive WordPress Theme [ download here ]
Photographer Portfolio Responsive WordPress Theme [ download here ]
Fluxus – Portfolio Theme for Photographers [ download here ]
ePix – Fullscreen Photography WordPress Theme [ download here ]
Kiss – Photographer Portfolio WordPress Theme [ download here ]
Titan Responsive Portfolio Photography Theme [ download here ]
MY FOLIO – Retina Ready WP Photography Theme [ download here ]
Vernissage: Responsive Photography/Portfolio Theme [ download here ]
Ideas – Fullscreen Responsive WordPress Theme [ download here ]
Photolio – Photography / Portfolio WordPress Theme [ download here ]