American fashion designer Jeremy Scott has added his signature wing motifs to a collection of baby pushchairs and buggies by German brand Cybex, unveiled at luxury Milan boutique 10 Corso Como this week. The capsule collection is the second collaboration between Cybex, which manufactures infant transportation products, and Scott, who is currently creative director for Milan fashion house Moschino. The designer has customised items from the company's Priam range, which includes a four-wheel stroller that can accommodate bassinets of different sizes and shapes. A car seat, a front carrier, a bag and a footmuff have also received a makeover. The black designs feature gold accents on wheel hubs, frames, and details such as zips and stitched lettering. Gold is also used for pairs of wings that adorn a carrycot, which clips onto the stroller frame, and the front carrier.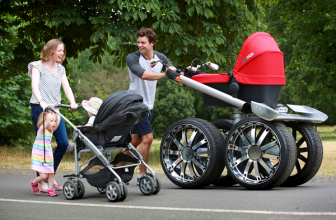 Czech car maker ŠKODA has developed an ultra-modern pram vRS Mega Man-Pram. The model is designed in a sporty style, it's significantly higher than the standard wheelchair: standing two meters high. The buggy comes complete with wing mirrors, hydraulic suspension, 20 inch alloy wheels, over-sized brake calipers, anti-stress grips and a headlamp beam for night walks. Tots lucky enough to be carried on board can look forward to "sports-style upholstery" and "adjustable lumbar support". Heidi Cartledge, Head of Marketing at ŠKODA UK comments: "The "vRS Mega Man-Pram" proves what you can do when you take the vRS vision off road and drive it straight into the nursery. We used it in the new Octavia vRS TV ad because we wanted to bring to life the idea of enhancing the performance of everyday objects. The high tech-buggy gives a tongue in cheek sense of what you could experience if you vRS'd your life".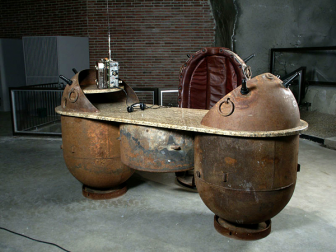 Estonian sculptor Mati Karmin creates mind blowing furniture made out from sea mines. In his works there is something medieval, extremely brutal. Sculptor finds mines on the shore of the island Naissaar, located in the Gulf of Finland, not far from Tallinn. This is former military facility, mines remained from the First and Second World Wars. Fantasy of artist transforms militaristic scrap metal into the unusual furniture. The sculptor added to the newly created objects beautiful details, leather upholstery, glass surfaces. And at the same time they aren't just art objects, furniture items can be easily represented in the interiors, they are quite suitable for everyday usage. These are chairs, tables, fireplaces, bathroom, cabinets, beds and even a pram!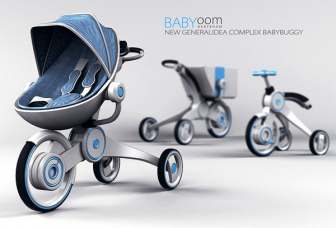 Pram is very simple thing. What else could be invented? But according to designers Jeong Haedong & Bae Junseong modern prams do not have enough simplicity and functionality. They have created a wonderful model- transformer, ready to serve to his little master for a long time. Lightweight and compact it combines the four necessary things that you usually need to buy separately – the pram itself, car seat, bicycle and even shopping cart. Very multi-functional concept!