The Honda Super Cub is been in production for six decades, and in that time 100 million units have rolled off the line. The Super Cub's design has gradually modernized over the years, but the new 2018 model takes cues from the original, for a more retro look. In stock form the 109cc, fuel-injected scoot mixes old school charm with modern tech, being equipped with drum brakes and LED lighting. The 2018 Super Cub goes on sale in Thailand today – and into production in a Thai factory. To mark the occasion, Honda Thailand handed the crew at K-Speed a new Super Cub last month, and gave them just 30 days to build something special.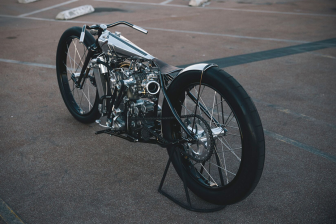 Building unbelievable works of art that also happen to be motorcycles is the everyday mission for Max Hazan and his team at Hazan Motorworks. Their latest release, a completely custom Supercharged KTM, is no exception. As the name implies, this hot rod is centered around a KTM 520 single cylinder power plant with a monsterous supercharger strapped to the head, a hefty unit that turns 85 hp at the crank. Mind bending hand-made wheels utilize very uncommon radial spokes laced through flangeless hubs, a look found more often on top level racing bicycles than motorcycles. An innovative braking system was created by Hazan specifically for this machine, which complements the tank shifter and foot clutch in a way that is anything but ordinary. Internal cable routing keep the lines clean and classful touches adorne the bike from tip to tail, like the wooden saddle, tire hugging chrome fenders, and a bitchin springer fork. Also we recommend you to check other retro bikes: Avionics V1 and 2.0 eBike
These days, we associate Ducati with tire-shredding 200 horsepower superbikes. But in the years after WW2, Ducati was best known for producing a tiny 98-pound motorcycle called the Cucciolo. Cucciolo is Italian for "puppy," and the bike was named after the high-pitched bark of its tiny exhaust. By 1952, an incredible 200,000 Cucciolos had left the factory, but few survive today. And outside Europe, they're very rare. So it's great to see some love for the humble 49 cc single, with this immaculate restomod from Tony Prust of Analog Motorcycles. The owner is Michigan man Del Thomas, who's been Tony's customer since 2013.