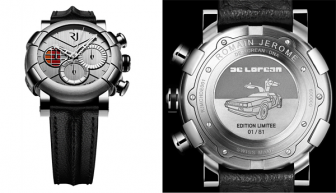 Take a look at another great luxury limited edition watch by Romain Jerome dedicated to the DeLorean DMC-12 sports car featuring the iconic gull-wing doors and rear-engine. In 1985 Steven Spielberg's Back to the Future film immortalized the now iconic car that is an enduring symbol of optimistic 1980's futurism. Today there are about 6,500 DeLorean DMC-12 cars still in the world and you can buy a well-restored DeLorean starting at about $60,000. Each of the 81 pieces in the limited edition watch will have metal from an original DeLorean DMC-12 in the bezel of the watch. The case is in stainless steel measuring 46mm wide. Inside the Romain Jerome DeLorean DNA watch is a Swiss mechanical automatic caliber RJ001-CH movement. Romain Jerome will produce just 81 pieces in the limited edition DeLorean DNA watch collection (as a testament to 1981, the year the car debuted). The watch will be priced at $15,900.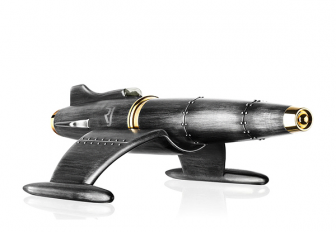 Romain Jerome, creator of the DNA series of luxury watches, has also created a collection of luxury fountain pens. Created in 2008 the Titanic-DNA Fountain Pens collection is limited to a series of 88 exquisitely handcrafted pieces only. In a tribute to the Titanic ship, the pens are crafted from the finest materials, including Palladium, brass, PVD, stainless steel and gold. Each Romain Jerome Titanic-DNA fountain pen is decorated with a ring of oxidized steel at the barrel with the metal being a blend of materials reclaimed from the actual sunken ship and steel obtained from Harland & Wolff shipyards where the Titanic was built. Extra new the MoonFighter pen is made from a combination of MoonSilver – an alloy of moon dust and silver – and fragments of the Apollo II. It boasts 48 hand-fixed rivets, a titanium point, and a wing-shaped dock. The Moon Fighet is limited to 888 items. Have fun!
Romain Jerome is a Swiss watch-making brand that became worldwide famous for creating the emblematic DNA-Famous Legends Collection. One of the first in the collection of DNA of Famous Legends were watches Titanic DNA with the body of rusted steel from the Titanic. Watches from next collection – Moon Dust-DNA – was created using fragments of the Apollo XI and the Soyuz spacecrafts; dials with mineral structure containing Moon dust. Today we want to show you last collection based on the erupting Eyjafjallajökull volcano. There's no information about price, but the watch is accompanied by a certificate of authenticity confirming that the volcanic rock and the ash do indeed come from the Eyjafjalljökull volcano. You could find more luxury watches in other our posts or you can check the list of the most luxurious watch brands for men.