What do you know about Romania except Carpathian Mountains and Count Dracula? This is a beautiful country in Europe with picturesque landscapes, old architecture and rich history. We've already featured some beautiful photos of Romania by Alex Robciuc. But today we want to show you amazing photos of different talented photographers. So, jump into the post and enjoy the beauty of Romania!
If you're looking for something spooky to do this Halloween, you couldn't get much more haunting than this. Airbnb has announced that Bran Castle in Romania, also known as "Dracula's Castle", will be listed on its website for the night of October 31. Two brave souls will have the chance to spend Halloween in the imposing medieval fortress, which is located in the Carpathian mountains of Transylvania. Bram Stoker, the author of the 19th century classic, was said to have based Dracula's residence on Bran Castle – though he only ever read about the monument and never actually visited Romania. The guests will be hosted by Dacre Stoker, the Irish author's great nephew who is, Airbnb says, "a well-respected vampire expert and passionate advocate of his great uncle's novel." Airbnb is running a global competition to win the spooky stay. To enter, would-be vampire hunters must write a short passage on what they would say if they came "face-to-fang" with Count Dracula. The winners will be invited to recreate the story of Stoker's protagonist Jonathan Harker, arriving at their destination by horse-drawn carriage before dining on a "blood-enriching meal" and bedding down for the night in "luxurious velvet trimmed Dracula coffins." This year's competition winners will be subject to a series of rules which ban any garlic or "garlic-scented items" from the residence, as well as silver jewellery and holy symbols. The guests are also advised to close all curtains and warned that, "the count is not a fan of mirror selfies."
The first kinetic steampunk pub opens in Romania. Enigma Café from Cluj-Napoca is literally making history with its kinetic sculptures, having sparked quite a share craze online after first appearing on the Facebook page belonging to The 6th Sense Interiors, the company which created the entire design of the location. The authors of the entire design concept, namely the Romanian based designers Alexandru Tohotan and Zoltan Zelenyak. A giant moving clock which gives the impression that you are actually inside it, dozens of finely designed steampunk details, rotating wheels, metallic flowers opening up on the ceiling, a live moving bird and even a robot which definitely takes you back to Giger's own characters, these are the core attractions of the Romanian pub. And it is indeed quite a wonder of design. The works took almost two years to come to life, but the efforts are well worthwhile, offering an unparalleled experience for having your regular cup of coffee at a bar.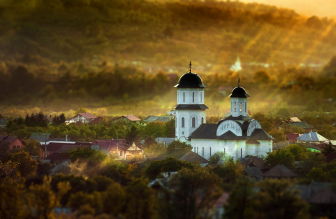 What do you know about Romania except the fact that it's a homeland of Count Dracula? Do you know that this is an extremely beautiful country with fairytale landscapes and picturesque mountains? And who can describe this country in the most best way than a Romanian? Alex Robciuc is a talented photographer from Romania and all featured in this post photos were captured by him. "Hiking and being in nature inspires me a great deal, so capturing these experiences is one of my passions. I captured these photos during my journeys through the Maramures (a small county in Transylvania, Romania). The landscapes I photographed in this region are serene and tranquil. Currently, I see my photographic style as traditional landscape photography. I like to use the rich morning and evening light for a dramatic effect. Waking up at 5 AM, searching for a view-point, waiting for the perfect light and finding an outstanding element in the landscape around me – that's my perfect recipe for transposing my feelings and my mood into a simple photo." Enjoy!