Artist Jin il Park created the "Drawing Furniture" collection where each of 5 pieces was made out of line drawings that began as 2 dimensional figures on a sketch pad. Each unique furniture piece was created with varying thicknesses of wire, only to replicate line weights created by an ink pen. A table, two lamps and two chairs are the sole units in this collection, showcasing their viability and uniqueness amongst a world of furniture design. Spot welding, hammering and a ton of patience went into creating this awesome collection. Take a look!
This book was created by Michael Murdock. As he said on his blog he likes drawing chaotic things and making them look nice. These drawings look like a creation of very talanted high school kid done during a boring lessons. That's why they are interesting!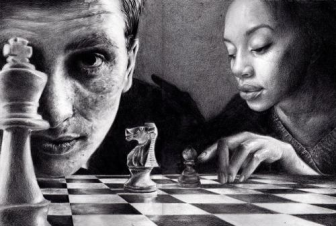 This collection of pencil art works was created by english illustrator with absolutely mind blowing drawing skills T. S. Abe. Sketch and pencil art became popular these days. This style is widely used even in web templates. For example you can free download and use sketch template for you blog.