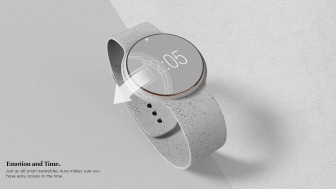 AURA by Pritika Sekar is a twist on wearable tech that isn't focused on your steps or trying to help you build muscle, rather, it's aim is to help you master your mental fitness! Designed for anyone struggling with mental illness, depression or distress, it uses biometric sensors to detect stress, anger, sadness and happiness. You can gain perspective of your current mental state by looking at the e-ink display that looks much like a simple watch face. Your overall data history can then be reviewed over time to track the moments you were experiencing different emotions in order to make informed behavioral or situational changes. Also check another great example of smart watches.
Originating from Japan as an electronics company, Casio took the title of "smart watch" in the late 1950's. Casio smart watches were performed as products for better living. Casio released lines with calculators, heat sensors, cameras, mp3 players, and even remotes to control your TV or VHS. Till this day Casio and G-Shock hold the longest lasting and most durable watches in their target market. Paying tribute to this legacy, Tyson Mai's Casio concept combines familiar elements from over the years. It doesn't appear to have any of the smart features mentioned, rather, it's a fashion throwback that's purely aesthetic in purpose. While it looks quite cousinly, one new feature is a removable face dial that doubles as a Philips screwdriver for removing the back plate when it's time to switch out the battery. If liked this Casio vintage watch you should also check Smart Outdoor WSD-F10 Watch.
Designer Kovács Apor represents design concept of Samsung Galaxy Gear Edge Smart Watch. " Designed with multiple straps to match any outfit. You can attach your smartwatch to your seat belt and use it instead of any bluetooth device while driving. Forget the ugly conference name tags ruining your look, just display your name on your watch and snap it on your pocket. Please note, that this is a creative concept and idea based on an existing device of Samsung. We imagined and created a design for a smart watch that perfectly matches the Samsung Galaxy Edge." Take a look!