The Spaceship Home by NOEM was born out of a project for a client who wanted a quick, intelligent design construction to enjoy the panoramic view of his plot. His passion for the cinema, home automation and comfort did the rest. The house is composed of wooden prefabricated modules which are attached to a metal frame 4m above ground level. Access is by a "real airplane" staircase that belonged to Spanair, and which, restored and modernized, recognizes and welcomes its owner. A mobile device provides automatic control for the whole house which when accessed by the ladder starts to open an impressive door with a pantographic opening. An aesthetic metal "Star Wars" control panel centralizes the house's facilities and presides over a restrained and functional interior. The architectural proposal stands out for its polished metallic exterior, the integration of the facilities, services and architectural details in a "space" context, and for the metal legged structure that connects the house with the ground. The building is constructed with 3 prefabricated modules which arrive almost completely finished from the workshop-it only remains to assemble and connect them on site. One of them houses all the apartment's facilities and equipment: it is the technological hub of the ship. The other two, combine a solid wooden structure with large openings that allow complete enjoyment of the views. The layout clearly distinguishes the public part from the private part, and promotes multiple usage. Despite not being oriented to the south, the wooden structure and the insulation of all exterior walls make this home a Class A energy certification building. From the control panel, the user can control the entire house. The lighting, temperature, security, access and sound systems are domotic, and two ipads allow control to all house functions. The shutters can be raised or lowered depending on the time of day or desired temperature, the metal walls can change color, and exterior lights can be programmed in different modes.
New York-based Chilean artist and designer Sebastian Errazuriz made planets closer and smaller than you think. His spectacular series "Space Bowls" features Earth, Moon and Sun. Small scale food plates with photographic planetary prints of the Sun, Moon and Earth. Made in partnership with Kikkerland, these designs for the dining table are a cool backdrop for sci-fi inspired lomographs. Fantastic art work! If you want to buy these bowls you can do it here fo $25.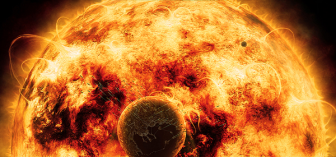 Digital space art is one of the most popular and beautiful type of art nowdays. Created by talanted artists stunning space scenes amaze us by its creativity and greatness. Why not to create your own? Here we have collected best space, planet, explosion and nebula Photoshop tutorials that will give you information and illustration to the steps in creating space images. They will show you different techniques and absolutely stunning ideas. At the end of the post you will find extremely beautiful free web template inspired by space theme. Hope this collection will inspire you! Have fun! And don't forget to check our post telling about free website builders.
Today we want to show you absolutely amazing and beautiful art works of Swiss designer David Fuhrer. He's master of digital art and for his life won a lot of awards. Even his portfolio created with Flash won a FWA award. His interviews were featured in many Design Magazines, Art Books and other design resourses. The fan thing that he don't think he's talanted. "Lots of practise and practise practise practise! I don't have any talent at all. When I started people laughed at me and told me to stop because my lack in talent." So look at these works and create your own opinion!