Matthew Simmonds is a sculptor and artist from Englang. From his early childhood, he was fascinated by stone buildings, an affection that flows into his artworks, where stone architecture is used as a central theme. Particularly the medieval architecture, with its striving to get to a new sophistication of space, comes alive in the marble. Simmonds makes a play of architecture and ornamentation on a small scale, but the spaces created give the same feeling as in the buildings themselves; a place to rest, a place to travel with the eye and maybe find a moment of tranquillity. The marble is opened up, and inside is a space within a building that only exists in the viewer's mind. What you sense is the significance of space. "To create a sculpture that catches the light and structure of a building and lets the eye wander, to feel that here my eye could live, here a part of me could stay, is a great achievement. The sculptures give the viewer a different perspective on space. They look different from every viewpoint. You long to be in them, and they seem almost more meaningful for that."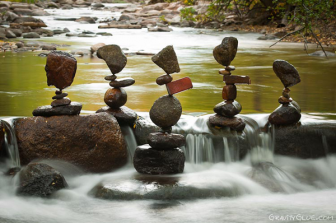 Michael Grab is a 28-years old American artist working in the genre of land art. Michael specializes in creating of incredible sculptures from stones. Michael knows a lot about "stones balancing". His latest collection of sculptures he was doing in the area of Boulder, Colorado. Grab believes that the process of creating these stones sculptures has both spiritual and healing properties. "As far as I know, many cultures from across the globe have practiced the art of balancing rocks for several centuries, if not longer. Rocks are among the oldest of primitive tools. In balance, their purposes range from marking human presence to giving thanks to meditative nature art" Take a look!
This weekend we want to show you cute series of photos "Stone Footprints" created by photographer Iain Blake. Ian found a lot of smooth stones and pebbles and placed them in fun footprint patterns: five tiny stone "toes" surround a larger stone. Amateur photographer working in the emergency service sector in Renfrew, Scotland, the Stone Footprints photo series is quite simple yet creative concept. Alongside with creative idea the photos themselves are amazing in their crispness and composition. Hope you will like it!
The limited edition Water Stone Faucet looks very natural and resembles small stream lost among stones. Designer Omer Sagiv created organic combination between water, lights and the rippling effects of pebbles and stones. Such elegant faucet will bring into your home some natural elements. The working mechanisms were designed by Touch360 and Smith Newnam. Just gorgeous!