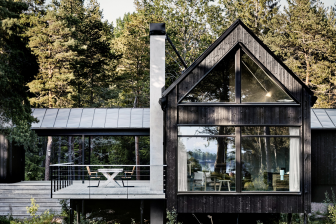 Combining the best of Japanese and Scandinavian design, the Stockholm Summer House is a minimalist coastal retreat. The timber-clad dwelling is located on an island in Sweden's largest archipelago. It's comprised of an existing cottage and a new construction. Both structures are connected to one another by a shared roof, creating a covered terrace below. Surrounded by both the forest and the sea, the home is a direct reflection of the natural setting. Windows, patios, and entire rooms were intentionally placed to capture the best scenes of the rustic pines in the rear and the shoreline ahead. Lined with panels of light plywood, its interior showcases the dual aesthetics, emphasizing simplicity, natural materials, and the surrounding nature. And don't forget to check Viking Seaside Summer House by FREAKS Architecture.
Repurposed from an existing fishing shack, the Viking Summer House by FREAKS Architecture is a minimal beach retreat on the coast of France. Although construction regulations kept the structure's size and shape unchanged, the roof and exterior facade were upgraded to a galvanized metal. The interior consists of only the basics — a kitchen, living room, and dining area — left in an open floor plan with a lofted bedroom above. To make the most of the modest space, bathing is done seaside in the outdoor shower. Along with a couple of large sliding windows, the coastal setting can also be enjoyed on an outdoor terrace created by the rocky landscape.
A 200 year old existing stone house in Linescio, Switzerland was renovated by Buchner Bründler Architekten with a distinctive, minimalistic approach. The house has been completely left in its original state on the outside, while in the interior, a house within a house was constructed. A new minimal concrete shell has transformed the space into a contemporary living space with a unique, calm atmosphere. All new elements are consistently made of concrete: the bathtub as a recess in the floor, and the kitchen worktop with a sink integrated as a single cast form. High, folding wood shutters cover the original front windows, which have partially lost their glass, while a new glass door leads out to the garden. The concrete was brought in layer by layer and still bears the marks of the formwork. The existing walls act as an extra layer of insulation, though the home is only meant for use in the summer. "The plastic, evocative qualities of the exposed concrete intensify the archaic character and the calm atmosphere of this stone house," say the architects.