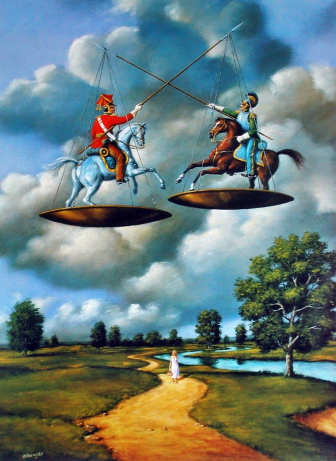 Rafal Olbinski is a surrelist artist from Poland, who has become world famous for his posters and designs. Rafal has easily proven himself a leading modern surrealist with his provocative, prolific, and technically masterful paintings and illustrations. While gently paying homage to his predecessors, he explores the irony of metaphysics, duality of meaning, and the limitlessness of imagination. His delightful "visual puns" become an artist's take on wordplay, with wit, reverence, and a humor that is rarely found in Fine Art. In addition to creating numerous distinctive and award-winning posters for major US opera companies, Olbinski has contributed highly acclaimed set designs. He has designed over one hundred CD covers; completed several major murals; and illustrated many book covers. He has won over 150 major awards including including recognition by: Society of Illustrators, Art Directors Club of New York, Best of British illustration, Prix Savignac, and World's Most Memorable Poster Competition (1994). Olbinski's work is exhibited in many major museums throughout the United States, Europe, and Japan.
Los Angeles-based photographer Brooke Shaden creates hauntingly-beautiful works that seem to live in their own world. People shine and objects levitate in outdoor landscapes whose dreamy coloring evokes a painterly quality to the work. It's clear that a lot of care and consideration was given to every part of the surrounding environment, and we see small-yet-fantastic details like a field of wildflowers or colorful teal rocks in the background. Movement is important in Shaden's work. Every subject has a very specific and acute way in which they're posed, and it makes their hair, dress, and other elements flow throughout the composition. It creates a lyrical type of story-telling, and Shaden's work sings lovely songs of women being inspired, and passionate, while enjoying the exquisite beauty of the world. Her unique vision brings out the dreamer in all of us.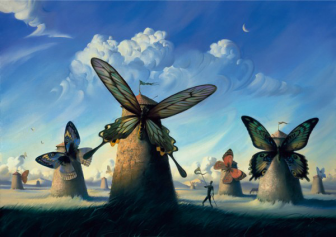 Today we want to show you beautiful artworks of Russian artist Vladimir Kush. This surrealist inspires by the works of Salvador Dali and you can see it in his paintings. According to experts, Vladimir perhaps is one of the most talented surrealists of our time. Each painting is fascinating by stunning fantasy stories, game with metamorphic! If you are a fan of surrealism, you'll get a real pleasure by watching artworks of this talented author!