Some time ago we've shown you Creative Fashion Tights from Les Queues de Sardines and today we want to show you another one collection of creative tights. Tattoo Tights series was created by Tel-Aviv based Etsy shop Tattoo Socks. They offer dozens of different original designs in both opaque colors and sheer flesh tones for a particularly realistic tattooed look. Lolita calf corsets. The coiled thigh snake. The exotic birds aren't bad. Even the ominous kraken and full-length fish bone are hot. Tattoo Tights are made of microfiber, and come in full-length footed, thigh-high, and footless legging styles. We would highly recommend a pair if you're looking for a gift for your girlfriend.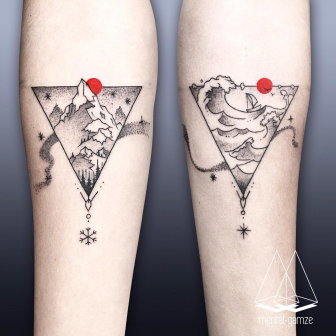 Tattoo artist Mentat Gamze creates beautiful tattoos with an accent color that is daring along with a simple, minimalist approach. In each of her pieces, there's a great line drawing completed in black ink that's inspired by the natural world. And also within every eye-catching tattoo, there's a red dot that accompanies it. No matter who Gamze inks, the mark that is crimson is a consistent motif all through her portfolio. Its presence is now a common bond that her customers reveal, as they're part of an exclusive club. What is the red dot? It's a special meaning for Gamze, and it represents following your bliss. After starting her working life as a designer, she recognized her existence was not going in the direction she wanted." Gamze held a variety of positions afterward, but she was miserable in each one. "I got fed up in conclusion and decided to quit my career," she confesses. Gamze taught herself how to tattoo and discovered that it's what she's designed to be performing. "I needed to reflect this on my function and that I honored this change together with the red-dot," she explained. The thought of a red-dot tattoo caught on, and now Gamze's clients give their meanings to the mark. Artist Mentat Gamze creates modern tattoo layout by incorporating a red-dot in all her work. Hope is symbolized by the striking shape and celebrates change.
Berlin-based tattoo artist Mo Ganji creates tattoos that utilize a single delicate black line. The images are all figural, yet range from elephants and koi fish to more gestural images of half-drawn faces. Each tattoo relies on an unbroken line that varies only slightly in thickness as it weaves in and out of each image, sometimes accompanied by a few accent dots. Each work is breathtaking in its simplicity, stark images that relate to the artist's own views of mastering a simple and honest life. Take a look at some of his tattoos!