Ever dreamed at being one with nature, without the annoying, inconvenient and uncomfortable necessity of camping? Cocoon Tree now offers a luxurious option that takes glamping to a whole new level. The Cocoon Tree is a spherical structure that can be suspended from trees, allowing you to hang above the ground in a pod. Weighing about 60 kilograms or 130 pounds, it is made from aluminum and covered with a waterproof tarpaulin, making it suitable to stay hanging all year. Each Cocoon Tree is rigged to trees with ropes and secured by nets. To gain access to the pod, you can attach a wooden walkway or simply climb the nets that secure it. Each Cocoon Tree can hold two people comfortably, has a mattress, and measure 3 meters or almost 10 feet in diameter.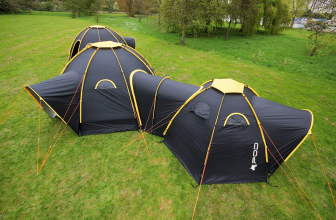 POD Tents is a revolutionary camping system that allows you to build a social community of tents using interconnected walkways! Choose from two tent sizes, the 8-person Maxi, or the 4-person Mini, and add to it as you need to, with many possible configurations. The system is designed to be completely modular, enabling you to create a self-contained tent village connected by zip-together tunnels.
FieldCandy aren't interested in creating camouflage tents to give you protection in the natural setting. Tents by FieldCandy are limited-edition designer tents created to stand out! They selected a group of talanted photographers, graphic designers, illustrators, branding and advertising designers to create designs that were then transferred to the ultra-light, waterproof flysheet that covers the two-person tent. At the moment FieldCandy offers more that 40 different designs grouped in several collections. A counter next to each creative tent shows how many items are still left and this number is steadily decreasing. Despite the price range from $430 to over $1,000. If you're interested in such unusual tent design – hurry up and order it on FieldCandy. The tents are available exclusively through the website.