Found at the junction of two famous roads, the Shoreditch Hotel reacts with its unique context in a striking, ship-like form that preserves, and creates, public space for the surrounding area. Designed by AQSO Arquitectos, the proposed scheme includes a hotel at its front, while a cinema and various retail outlets are separated by a public atrium at its rear. The mixed-use facility "explores a formal response to the site conditions with an alternative contemporary language," the resultant blending of perspectives creating a gateway to London's creative heart. Emphasising the cycling and pedestrian flow, the facade steps back at ground level; a pointed overhang enhancing the angle of the junction to passersby. The contortion of the form aspires to create a project that is "iconic, but not monumental," and as the height gradually decreases along its side, the landmark takes on a much more subtle appearance in the adjacent streets.
One of the world's most stunning national parks is in Chile. Chile's Torres del Paine National Park is home to world famous Paine mountain range, as well as a number of gorgeous valleys, rivers, and glaciers. And EcoCamp Patagonia is right in the middle of it all. Not quite a hotel but not exactly camping either, this glamping location is made up of a series of geodesic domes. The camp offers luxury suite dome lofts, standard lofts, a central community dome, as well as a relaxing Yoga Dome for group and individual classes. EcoCamp, as the name would suggest, is run by renewable energy, and practices radically sustainable methods like its sourcing of local foods for all meals. But more than just featuring an environmentally conscious approach and unique accommodations, this hotel offers up easy access to hiking, bicycling, and climbing in one of the most beautiful corners of the world. All things said, a stay here goes for about $2,500 per week. And don't forget to check stunning photos of Patagonia.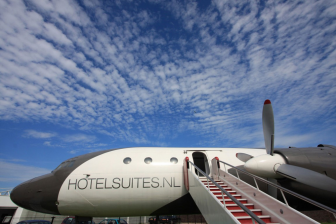 Airplane Suite or as it's called Vliegtuigsuite Teuge is a singular hotel destination. Stationed in the Teuge Airport, in The Netherlands, the plane was originally built in 1960 and measures 131 feet in length. This unique aeroplane suite still has a fully-equipped cockpit and boasts a luxurious bathroom with sauna, shower and spa bath. The raised terrace at Vliegtuigsuite overlooks Teuge Airport's runway. The air-conditioned Vliegtuigsuite Teuge is occupies the whole plane and is nearly 40 metres long. Price tag is around $350 per night at this deluxe suite. Interested? You can book it here.
When it comes to the perfect weekend getaway, it would be right to place the Beermoth is at the top of the list. The Beermoth is a unique 2-person accommodation in the Scottish countryside, it lives on the Inshriach House grounds, and is one of three unusual holiday options out in the woods around the property. The Beermoth, is a restored 1954 Commer fire Service truck converted into luxurious camping for two, and can be moved around the estate. It features a tiny kitchen, oak parquet floor, a wood-burning stove, a Victorian double bed, and a side panel that rolls up offering amazing views of the surrounding natural beauty. And while they do allow pets, there are no kids allowed.