The majestic mountains of water attract many an artist, and photographers are no strangers them, either. Here we see Warren Keelan doing his best to capture the ephemeral beauty of the crashing crests. The waves are magnificent, often demonstrating a vibrant turquoise hue. Of course , the real effort is closing in with the wave and snapping the picture at the right time. And while Keelan has only been doing it for 4 years, he already has a keen eye for the waves. A native of the Australian coast, he has had plenty of opportunities to observe and study the waters. Now, he takes these gorgeous shots for us landlubbers. On the more technical side, he has tried out a 15mm Fisheye lens and a hand-held waterproof flash system in an effort to get even more stunning pictures.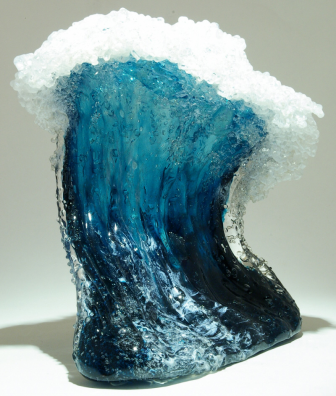 Marsha Blaker and Paul DeSomma, two glass artists at Kela's, a glass art gallery in Kauai, Hawaii, have a unique talent for capturing the power and motion of the sea. It is only at a closer glance that these stunning ocean wave vases can be distinguished from the real thing. They created a myriad of other beautiful glass art inspired by the sea, so be sure to take a look!
When we're talking about summer the very first thing that will come in mind is a sea. Sun, sand and sea. It's a perfect combination! And in these autumn days let's remember how cool it was in summer. Different seas, different shores, different angles and captured by different photographers – the following collection will show you waves from inside! So don't stop and jump into the sea… or rather post! Enjoy!