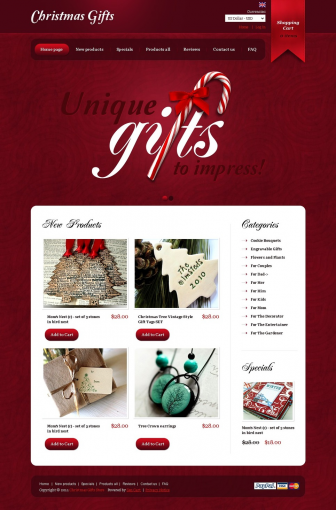 Do you want to open online store and sell Christmas gifts? Or perhaps you already have a store and want to make its redesign for Christmas? Then you came to the right place! In this collection we've tried to gather the best designs of Christmas online stores templates available to purchase. Of course, you can use any of best website builders for this purpose. But if you don't wan to use them here you will find many variants of in-built CMS for your Christmas online store: ready-to-use HTML5 websites and ZenCart templates, PrestaShop and OpenCart themes, Magento and osCommerce themes etc. All you need to do is to decide which from listed below Christmas website template will suit you best. And remember these Christmas designs are not just nice "costumes" for your site – they are a great treat for your audience. Right Christmas website template can create atmosphere of the fete day giving that warm welcome every visitor needs so! Also if you want to open online store then you should necessarily check list of 10 Best Online Store Website Builders.
If you are in the job search process and want to stand out from the competition then you should definitely launch your own resume or CV website. It'll give you prominence and a mark of individuality among the other job seekers. On pages of your resume website you can show your experience, educational qualifications and other skills thus to prove yourself as a professional who knows the proper use of modern technologies. In the following collection we've gathered some really interesting resume/CV website template that can make your CV attractive and expressive. Collection contains both one pager and multi pager resume website template. All resume templates are easy to customize and great for everyone to showcase their online bio, education, work experience, skills and achievements. Also we recommend to check our last collection of Top 10 Online Store Website Builders and about 15 best free website builders!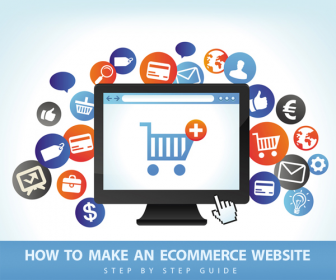 Sales market has long gone online. And every year more and more people have a need to create website that can sell products online. So, if you have a need for eCommerce site – this guide is what you need. Step by step we will tell you about two the most effective ways of creating eCommerce website. Actually there are plenty methods of how to make eCommerce sites but we will stop on the following two ones since they're the most effective by quality-price ratio.
The aim of this collection is to help young music bands to show their presence online with no extra cash. The following free music band website templates will come in handy if you want to create a website for your band. This list contains CSS templates, HTML5 templates that are absolutely different by style and color schemes used but all of them are free. Also you can use any from popular website builders for free. So feel free to choose proper website template, add your music band photos, music samples, news and announces and here it is – your band website is ready!