As part of a campaign for the International Fund for Animal Welfare (IFAW), Young & Rubicam Paris has realized a series of images that depicts the irreplaceable and irreversible aspects of killing wildlife. The advertisements aim to draw a comparison between technologies that can easily build and construct matter, like 3D-printing, and the fragility of animal life – a condition not as easily reparable as a broken household object. The digital compositions illustrate three animals – an elephant, whale and orangutan – with parts of their bodies exposed to view. Above their bodies, a 3D-printer seemingly attempts to build new layers of skeletal matter, acting a subtle symbol of the impossibility of this situation. Accompanying text reads "if only they were this easy to reproduce", a simple yet powerful message that underscores the idea that the loss of wildlife is an irrevocable act with permanent consequences.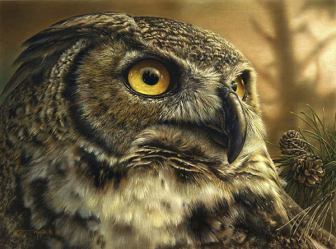 Vancouver based artist Denis Mayer Jr. has earned international acclaim for his unique style of wildlife painting that offers not only remarkably realistic representations but also images infused with energy, vitality and warmth. Having achieved success as a master illustrator, Denis looked for and found his greatest challenge and passion – wildlife painting. Inspired by the work of Belgian naturalist and artist Carl Brenders, Denis now works exclusively as a wildlife artist, using mixed media and limited colours that reflect what he sees as the natural palette.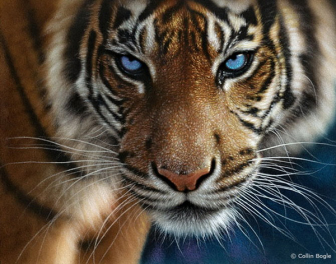 Inspired by the beauty of nature talanted award-winning artist Collin Bogle uses pastels, colored-pencil, watercolor and acrylic, all that's needed to create stunning realistic and almost photographic paintings, which brought him well-deserved popularity and prestige. His collection contains beautiful nature, wildlife, animal and flower paintings. The artist exhibited in art shows through the United States and in the most famous and prestigious galleries in the world.