Designed by Onfire Design, Luxerose's newest line of cocktails delivers in threes. Each cylindrical tube comes equipped with a distinct color, flavor and name like Summer Love, Night Out and Moon Child. "The cocktail and beverage category is a rapidly growing sector. To stand out a new brand needs to think a little differently and bring some innovation to a demanding consumer group that is always looking to discover new and unique flavours. Luxerose is an RTD range of cocktails aimed at the young, millennial female audience in New Zealand and China. Designed for social occasions and gifting, New Zealand mixologists were commissioned to create 3 distinctive cocktail blends reflecting current flavours and taste trends in the New Zealand social scene. Packaging the cocktails was an essential part of the project. In conjunction with the client, we created a unique set of 3 glass vials which, when chilled, could easily be dispensed at home or in bars. These are contained within a presentation case lavishly decorated with a modern, colourful and abstract botanical illustration showing various flora and fauna from New Zealand. Future range extensions intend to utilise the same livery but with illustrations inspired by different countries and cities. Bright, colourful and fun, this new way of enjoying cocktails brings a new dynamic to any social event." Also be sure to check Top 10 Most Expensive Bottles of Wine in the World.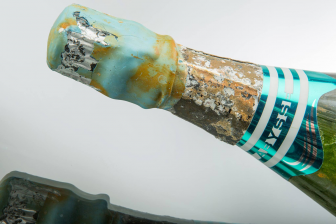 A steady temperature and lack of light is an ideal environment for aging Champagne, but only a few houses in France take that to the extreme by aging their liquid underwater. Abysse is one of those, a Grand Cru Brut that 12 months under the sea off the coast of Southern France locked in a steel cage, after 48 months of aging on the lees in stainless-steel tanks and Burgundy French oak barrels. Abysse is the only ocean-aged Champagne being exported to the United States, with only 60 bottles being made available. And don't forget to check Top 10 Most Expensive Bottles of Wine in the World.
David Feldberg, owner of Stratus Vineyards teamed up with New York based designer Karim Rashid, to create the sculptural Decant wine bottle. The goal of the project was to create an innovative bottle from the Stratus philosophy, 'form followed by function', which represents how the unfiltered Cabernet Franc wine is uniquely grown at Stratus Vineyards. From concept to completed design, the layered glass of the bottle creates a slip-resistant handle and serves as a decanter for the naturally forming sediment while visually stimulating the senses. The Decant bottle boasts a deconstructed design that was inspired by the layers of clay, granite and limestone, that are in the soil where the grapes for the wine are grown. Also, don't forget to check Beautiful and Unique Bottles for Luxury Drinks and Top 10 Most Expensive Bottles of Wine in the World.
Take a look at the stunning packaging design for Tokaji wine bottle created by Szabolcs Moldovan, Romania. "All elements of the packaging are hand carved by an artist, further giving it value. This would be possible due to the fact that the aim of the product is not mass production. Materials used are wood and metal/precious metals. The wood wine holder symbolizes a cathedral that protects the wine, and even after the wine is consumed, the packaging can be reused as an artwork on a shelf or table, while the label that contains precious metals can be taken off the bottle and hanged on the wall of wine cellars, to further push the idea of reusable packaging, packaging that has value, and should not be thrown away or discarded. With all the work that goes into packaging these days, it is still heartbreaking to see that they end up in the trash." And don't forget to check our post about Most Expensive Bottles of Wine.